Marvel's massive Age of Ultron even is going out with a bang.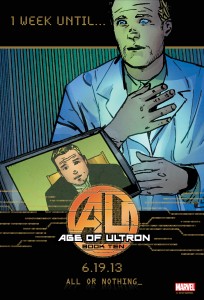 In just under a week, the Age of Ultron miniseries comes to a close with an event that Marvel Comics says will shock longtime readers.
To save the Marvel Universe, Earth's Mightiest made the most controversial decision of their lives resulting a disaster unlike any they've seen before. But with one final shot to make things right, can they turn back the hands of time and restore everything to its former glory? And if they can't what happens next?! Age Of Ultron #10, by the jam packed, blockbuster creative team of Brian Michael Bendis, Bryan Hitch, Carlos Pacheco, Brandon Peterson, Alex Maleev, Butch Guice, David Marquez and Marvel Chief Creative Officer Joe Quesada, leaves no stone unturned and has an ending nobody can see coming!
Men with nothing to lose are the most dangerous kind- and that goes double true for The Avengers. It's fourth and goal with seconds left on the clock for Marvel's top super team, can they beat Ultron and free the planet from his rule- and what is this "ending nobody can see coming" that they keep talking about?!
Seriously. Age of Ultron #10 hits the racks on June 19th.