Classic monster movie fans take note- the Creature from the Black Lagoon is on the prowl this Summer with a variant that'll put a smile on the faces of fans of the original film.
Coming at you straight from the classic monster movie of the same name, the Creature from the Black Lagoon is 9″ of black & white awesome.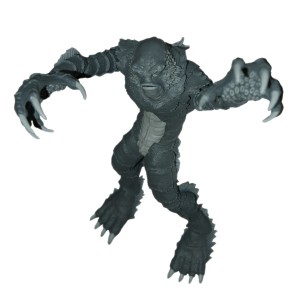 This iconic scaled terror from the deep stands 9″ tall and captures the intricate detail of the pre-historic gill-man; from his mysterious amphibious eyes, to his claw tipped webbed hands. With 11 points of articulation he'll be able to take out any scientist who dares to come between him and his true love.

The Creature is packaged in a full color, collector friendly window box perfect for display.
Even if you're not that big a fan of the classics of modern horror, you have to admit this is one awesome figure. At 11 points of articulation, there's a ton of possibilities for posing with the gilled terror and that sculpt looks incredible.

I love the comic book-style bulk Mezco Toyz gave him and everything from the suckers on his hands to those creepy eyes are terrifically creepy. And making the Creature all that much more impactful in appearance is the excellent black & white deco. I'm a bit of a fan of seeing a 3D action figure in B&W, it's just such a cool look, and this is no exception.
If you want to add one of these gill-men to your own collection, you'll need ti head to Mezco Toyz' booth (#3445) at the SDCC or preorder him online right now (right here). Just uh, be quick about it- there's only 100 of them being made and the  quantity available online is way less than that, so if you want him, you know the drill.