Those wacky Martians are back with a special hardcover limited edition book from IDW Press.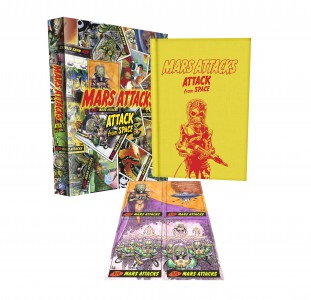 Originally a trading card series from Topps, Mars Attacks has been around for a long, long time now in one way or another. Publisher IDW's latest take on the invaders from afar has been a pretty big hit with fans and as a result, it's getting a pretty awesome looking Limited Edition collector's volume called Mars Attacks: Attack from Space!
This hardcover edition puts together the first five issues of the IDW Mars Attacks comic series with a twist- each book also includes a hand-drawn sketch card. The cards are provided by Topps (there's a cool tie-in for you) and include artwork from a huge range of artists form the comic and gallery worlds.
"The new Mars Attacks comic has been an absolute blast!" says IDW Limited director Jerry Bennington. "And when we started designs for the limited edition, we wanted to make sure we celebrated not just the IDW comic, but the roots of the series as well. To us, that meant we had to do sketch cards, and we had to do them right."
In the cards that'll accompany the books, you can expect to see artists like Mars Attacks regular penciler John McCrea, gallery painter Apricot Mantle (who might have the greatest name ever) and trading card artist Nar! (actually, that might be the greatest name ever).
"I grew up drawing 'Mars Attacks my school' on the back of my bio homework ," says gallery artist Apricot Mantle. "To have the chance to be a part of this book, it's almost unbelievable. I can't wait for people to see what I have planned."
To have this great a variation in folks working on a project, you know it has to be a big deal- and if anything fits that bill, it's probably Mars Attacks. The story of invading Martians running roughshod over the Earth isn't new by any stretch of the imagination, but it's one that's hung on and stayed in the public eye (and the comic book world) since it's debut way back in 1962.
Here's the roster of artists whose work will appear in Vol 1:
Jason Adams
Ted Dastick
Alex Deligiannis
Charles Hall
Dan Duncan
Dan Harding
Gary Kezele
Miran Kim
Apricot Mantle
Chris Mason
John McCrea
Nar!
Sean Pence
Tim Proctor
Eric Talbot
Chris Uminga
George Webber
Jeff Zapata
Mars Attacks: Attack from Space will be available in 'red' and 'blue' label versions, both signed  by the creative team of John Layman and John McCrea. Both will also come in custom tray cases with one hand-drawn card each.
The difference some in the fact that the red label books (of which there'll be 250 produced) will include one sketch card while the blue label versions (of which there will only be 50 made) will be packed in with a four card 'puzzle set'.
Mars Attacks: Attack from Space Limited-Edition Hardcover will cost you $125 USD for the red version and $400 for the blue. They're both available for preorder right now (here) and you can expect to see them shipping out soon.