Axe Cop has absolutely exploded as a property in the last year, with an action figure line and upcoming cartoon based on the award winning comic. Now Mezco has announced that their toy line will be getting small with a line of 4″ figures. And poop. Plenty of poop.
If you're not familiar with Axe Cop, he's a tough talking cop… with an axe. The comic was created by a five year old boy and his 29 year old (illustrator) brother who pencils the beyond bizarre and wild tales that his bro comes up with (yes, really). Dark Horse Comics publishes the comic and it's as much fun to read as you might expect – especially since you know as you're reading that a five year old 'wrote' the story.
Mezco's first series of figures based on the book further emphasizes that theme and carries over the general wackiness of Axe Cop pretty darned well.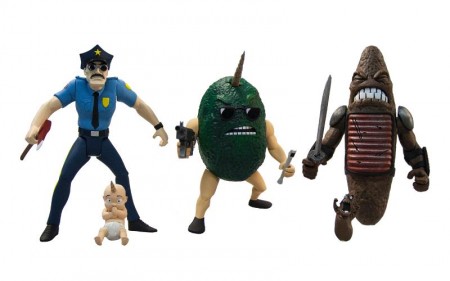 Series 1 contains:

Axe Cop -The star of the show, with axe, poopsucker gun (to help him conquer Planet Poop), Uni Baby, and lemon grenade (all the explosive power of a regular grenade but with a lemony freshness).

Dr Doo Doo- One of Axe Cop's many arch enemies, with Doo Doo soldier, and sword. Also includes clear stands to create the "hover" effect.

Avocado Soldier – Axe Cop's metamorphosing partner, with flute, machine gun, and removable unicorn horn (for magic powers, of course).
Ah yes, Dr Doo Doo and an Avocado Soldier… only in Axe Cop. In any event, all the figures are based on a 4″scale and feature five points of articulation. They're also made for both kids to play with and adult collectors to display and have a "display friendly blister package covered with Axe Cop artwork".
You can expect to see Mezco's finest on store shelves at Toys R Us' and other retailers this October.