Dark Horse's visual collection of all things BioShock Infinite goes back to the presses for a second printing.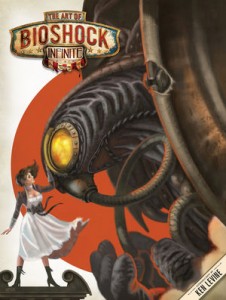 If you're a fan of Irrational Games and Ken Levine's latest gaming masterpiece and you haven't read through The Art of BioShock Infinite, the you've been missing out. The book is amazing and includes artwork not only form the game, but also from the concepts behind it. Bottom line- it's awesome. And if you missed it the first time around, your second chance has arrived.
In The Art of BioShock Infinite, delve deeper into the sky city of Columbia and its inhabitants. This deluxe hardcover features an introduction by creative director Ken Levine and production designs and concept illustrations focusing on main characters Booker DeWitt, Elizabeth, and Songbird from the BioShock Infinite video game. See the evolution of Sky-Hooks, Heavy Hitters, the populace of Columbia, Vigors, airships, and much more!
The book is available once again for pre-order right now and just may go as fast as the first run did- so you might want to be quick about it and get a copy for yourself. The Art of BioShock Infinite (2nd printing) is expected to return to shelves on July 3rd.
If you'd like to check out our review of the game that the book is based on, you can check that out here.