Classic gaming set-ups are great and all, but I wish those old consoles had the convenient wireless gamepads of today…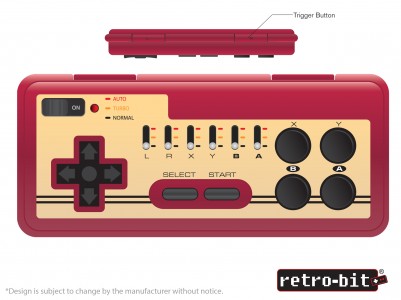 Innex Inc has just announced that they'll be distributing a very cool set of controllers made just for classic consoles from developer Retro-Bit. The pads look extremely similar to the controllers that you know and love with one big exception- they're wireless.
Of course, that's not the only difference. The pads, which are available for Nintendo legacy consoles as well as the Genesis (all work on the PC/Mac too), will also sport 'Hypermode' functionality. This special mode works like the old school 'turbo' function on pads from back in the day. It's a nice touch that's not only useful, but happily nostalgic as well.
Fact sheet and bullet points? Sure, why not: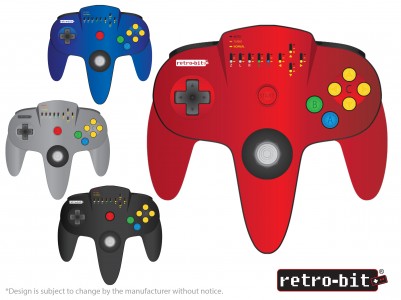 Wireless Hypermode Series Controller for N64 ($29.99)

• Compatible with N64 consoles

• Classic analog stick, D-pad, and button layout

• Program each button to normal, auto fire, or turbo mode

• 2.4GHZ wireless controller with receiver

• Open slot for Rumble or Memory Pak

• Trigger buttons

• Requires 3 AAA batteries

• Launch Date: Summer 2013

Wireless Hypermode Series Controller for NES/SNES/PC-MAC ($29.99)

• Compatible with NES, SNES, PC & MAC

• Similar to the Famicom color scheme

• 3 connecting ports SNES, NES & PC/MAC via USB®

• Program each button to normal, auto fire, or turbo mode

• Trigger buttons

• 2.4GHZ wireless controller with receiver

• Built-in rechargeable battery

• Launch Date: Fall 2013

Wireless Hypermode Series Controller for GENESIS/PC-MAC ($29.99)

• Compatible with GENESIS, PC & MAC

• 6-button classic Sega Genesis controller

• 2 connecting ports GENESIS, PC/MAC via USB®

• Program each button to normal, auto fire, or turbo mode

• 2.4GHZ wireless controller with receiver

• Trigger buttons

• Built-in rechargeable battery

• Launch Date: Fall 2013