Diamond Select's Thundercats Minimates have been something of a hit with fans of the classic 80s cartoon as well as the newer version from a few years back. Now the company has a brand new set for you to add to your Thundershelf with five new characters… well, four and a half.
The set is an homage to the 1985 movie that aired as a five-part mini-series during the original show's run on TV. All in all, fans who pick up the set will nab Bengali, Lynx-O, Pumyra and the mutant Ratar-O. As a little bonus, you'll also get an exclusive Ro-Bear Bert packed right in the box.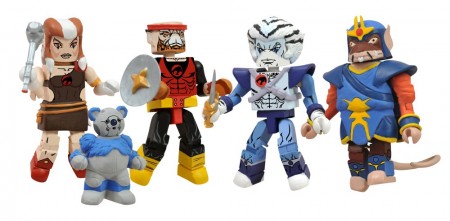 The three new ThunderCats in this set – blacksmith Bengali, healer Pumyra and wise, sightless Lynx-O – were introduced in the five-part 1985 movie "ThunderCats Ho!" as three Thunderans who came to Third Earth in the wake of Thundera's destruction. Ro-Bear Bert was on of the two Berbils who saved the trio from the doomed planet, and Ratar-O was the Mutant commander who sought to capture them for the evil Mumm-Ra.
There's no release date yet for the set, but you can preorder it now at your local comic shop. Best get there before Mumm-Ra…