According to Bill Roper, the head of Disney's games division, it just might happen.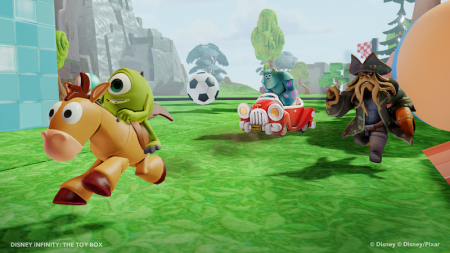 Roper did an interview over on gamesIndustry.com recently and, among other things, said that he views the upcoming Disney Infinity as a 'platform' – there's that magic word. He went on to say that his team was very excited when the news came down that Disney had acquired Lucas' properties.
"That was definitely exciting when that [news of the acquisition] came down from within the company. We love the potential for Infinity – we always joke, well, 'the possibilities are infinite',"

He went on to add:

"I think the beauty of something like Infinity is that it's a platform that we're building. So we don't try to be coy about it – we've done a lot of work about identifying the properties that we felt would really make the platform sing at launch, but I never discount any possibilities with the vast array of characters and worlds that we can tap into across the company,"
An interesting note about Marvel characters making the jump too- gI notes that Roper was originally hired to oversee the Marvel portion of the Disney empire. With that in mind, I imagine that the Marvel Universe is more than likely a place he wouldn't mind playing around in again.
Spider-Man and Luke Skywalker side-byside with Jack Sparrow? Stranger things have happened. No wait… I'm not sure they have. Disney Infinity launches on current gen platforms this August.
Source: gamesIndustry International