Injustice: Gods Among Us blasts onto iOS with an interconnected game that looks sharp and plays nice with the forthcoming console versions.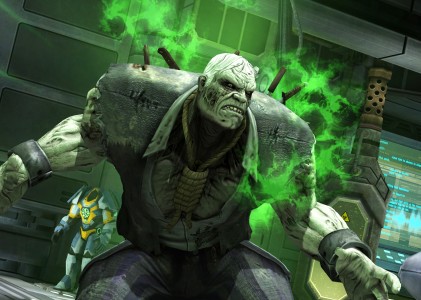 Firstly, Injustice iOS isn't a hastily put together port of the forthcoming console game of the same name. Crafted by NetherRealm themselves (developers of that full on console fighter), Injustice for iOS is both a standalone experience and a companion game for the 'real' thing.
"The team at NeatherRealm Studios created a custom mobile experience for Injustice: Gods Among Us on the iPad, iPhone and iPod touch that delivers gameplay mechanics created specifically for the platform" said Ed Boon," Creative Director, NetherRealm Studios. "We're excited to offer fans a new way to play fighting games that can be enjoyed alone or as a companion experience to the console versions."
So what are those "gameplay mechanics"? Injustice on iOS features three-on-three tag team fighting, with a collectable card mechanic thrown in for good measure. The game also has connectivity  with the console release and players will be able to unlock content in both games by playing the other and registering for a Warner Bros ID account.
Injustice: Gods Among Us is available now on the App Store for play on the iPad, iPhone, or iPod Touch- grab a copy and get to super-brawling right here. You can take home of the full console release of Injustice on April 16th, when it hits the Xbox 360, PS3, and Wii U.