G5 Games brings a variety of fishy fun to your iOs devices with the newly released Hidden Wonders of the Depths. With a variety of games to play, and tons of levels to play on, it has all the makings of a great time sucker.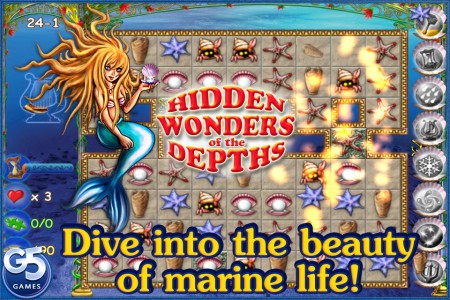 Hidden Wonders of the Depths is, obviously, an ocean themed game that plays on pretty much every under the sea stereotype. There are mermaids, ancient artifacts, and all kinds of underwater wildlife, all colorful drawn in an underwater environment. There isn't really much of a story per se, but you have to work your way through levels to uncover different items and to build an underwater palace. All of this is done through a series of match three and mahjong type games.
There are three basic types of games, and you'll play each of them in all the levels. The first is like your basic match three game, with a few extra challenges thrown in. You need to get at least three items in a row to make them disappear, and you can only swap adjacent items – that's pretty standard. Hidden Wonders of the Depths mixes it up a little by making you clear the way for a crab to work his way to a treasure chest. You need to clear each of the items in front of him before he can move along his path, and since he takes up a square, it can be quite challenging at times.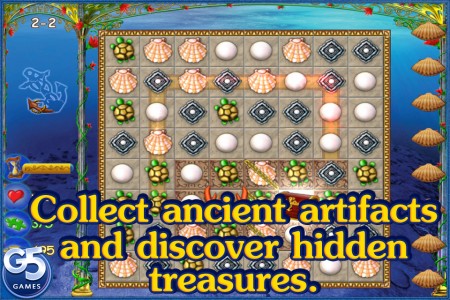 The second type of game looks a lot like the match three game, except you cannot swap any items. You need to click on any places where three or more items cluster together in order to make them disappear. To win the game, you need to uncover all the blocked squares. Finally, the last type of game is like a combination of mahjong and memory. There are a variety of tiles laid out in mahjong fashion, but you can't see what they are until you turn them over. Match up two identical tiles to make them disappear. Since tiles stack on top of each other, you need to be careful how you match things up, lest you be left with unmatchable tiles at the end.
If you do run out of tiles to match, you lose a life and begin that puzzle again. If you run out of lives, you'll have to go back to the start of the level. Adding to that challenge, all of the puzzles are timed. Running out of time means losing a life, and that makes for some pretty challenging levels. As you make your way through the game, you'll also earn magic abilities (which require a picture scramble puzzle to unlock). These abilities add things like extra time, a hammer to unblock one square, a board scramble, and more to help you get out of tough situations. They are almost a must on some puzzles, and not needed at all on others, but it gives you choices and that's always nice. In addition you'll get bonus levels here and there, for the hidden object fans out there. These involve finding a variety of items in an undersea screenshot, from stars and shells to coins and turtles.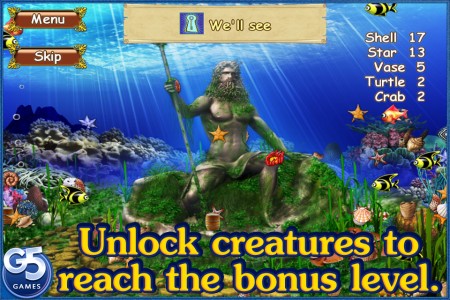 Hidden Wonders of the Depths is an ambitious game that combines several different casual games into one colorful underwater experience. With tons of levels and a variety of extras to add to the fun, you'll certainly get your money's worth with this game. Although the levels can start to run together after a while due to similarity, it is great in smaller doses, and gives you a whole new way to play some familiar games.