DST has taken the wraps off of two more of the formerly secret Minimates based on the upcoming Iron Man 3 film from Marvel Studios. Warning- they're pretty extreme.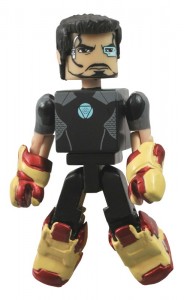 The first, "Suit Up" Tony Stark, will be one of four Toys "R" Us-exclusive Minimates, and will come packaged with a mystery figure to be revealed later. He is shown wearing parts of the Mark 42 armor, which can be summoned and controlled via mental link in the film, as seen in the trailer. The boots and gauntlets will be removable, and Tony will also come with regular hands and shoes.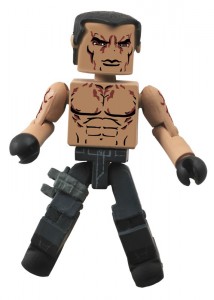 The second is an Extremis Soldier, who comes packaged with Iron Patriot and will be available at comic shopsand specialty stores as well as at Toys "R" Us. These super-strong operatives are shown receiving the Extremis treatment in the trailer, and the Minimate will come with a removable vest, a pistol, and interchangeable hair pieces to create different looks.
The two new figures definitely give a better look at some of the key trailer scenes shown for the movie with Stark suiting up and the Extremis-powered troops (which is an element right from the comics).
Iron Man 3 Minimates will be hitting shelves at both Toys R Us' and local comic shops next month and there are a trio of figures left to be unveiled- so stay tuned.