DST has a habit of making some pretty awesome mini-versions of some of the biggest movie, comic and game properties of the day. The Tomb Raider reboot is no exception.
Due this Summer, the Tomb Raider sets are just as cool looking as you might imagine. In a pretty cool twist, the accessories that each character comes packed with are all items and weapons directly from the new Square Enix game.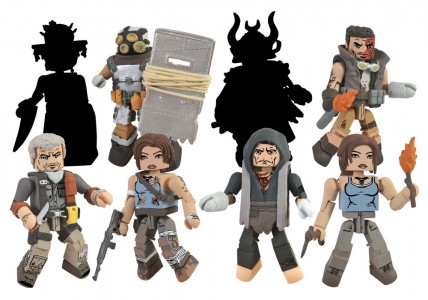 The first series will have two overlapping assortments, one at Toys "R" Us and the other at comic shops and specialty stores, with a total of 12 different Minimates, to collect. A two-pack of Lara Croft with Molotov Scavenger will be available at all outlets, as will a "Battle Distressed" Lara with Armored Scavenger. Specialty stores and comic shops will also get two exclusive two-packs, in which Lara's mentor Roth and Priest Malik are each paired with a top-secret character from the game. Finally, Toys "R' Us will get their own exclusive sets, one an army-building pair of Scavengers, the other an army-building pair of mystery opponents.
No firm release date yet on these Tomb Fans, but look for them to hit stores this Summer and you should be able to preorder right now at your local comic shop.