Star Wars and Star Trek have more than JJ Abrams in common this week as Diamond Select has some very cool releases in stores now from both famed franchises- and Marvel fans, you're not out in the cold either.
As a big Trek fan, this weeks new releases do my heart well. A Tricorder and classic communicator set and an Enterprise B replica? Yes please. There's such a dearth of quality Star Trek collectables on the market right now, I'd take pretty much anything. The fact that this stuff just looks so darned cool is icing on the cake.
So lets get to it-

Star Trek Electronic Enterprise B
The long wait is over! The Enterprise B is finally ready to leave drydock! One of the most fan-requested Star Trek ships, the Excelsior-class starship is finally on its way as an electronic ship replica from Diamond Select! Packaged in a "Try Me" window box so customers can test its movie-accurate lights and sounds, the Enterprise B measures 16 inches long and comes with a display stand. SRP: $60.00
Marvel Select Rhino Action Figure
The Hulk. The Thing. The Abomination. The Juggernaut. DST's oversized Marvel Select action figures have been dazzling collectors for years, and now they're ready to do it again… with the Rhino! The leather-skinned Spider-Man foe stands over 8 inches tall with 16 points of articulation, and is ready to tear through your Marvel toy collection like tissue paper. Comes ready to display in oversized collector packaging. Designed and sculpted by Gentle Giant! SRP: $21.99
Lenore 7″ PVC Statue


The cute little dead girl has risen from the grave! Celebrating her 20th anniversary, Lenore was created by artist Roman Dirge back in 1992, and has gone on to star in a long-running (and recently revived) comic book and even an animated series! DST is celebrating the occasion with a PVC statue of the ghoulish urchin. Figure stands 7 inches tall and comes in a window box. Sculpted by Joe Menna!  SRP: $45.00

Best of Marvel Minimates Series 2
The best Marvel Minimates DST has ever made are back for a second series! This time, eight more of Marvel's most famous heroes and villains get the ultimate Minimate treatment: Mr. Fantastic & Dr. Doom, Daredevil & Venom, Punisher & Deadpool and Hulk & Loki! They're the best versions of Marvel's best characters, and they're only available at specialty stores! Each Minimate stands 2 inches tall with 14 points of articulation and a variety of interchangeable parts and accessories. SRP: $9.99
Clone Wars Anakin Skywalker Vinyl Bust Bank
The hit DST bank line continues with our first ever Clone Wars-themed bank release! Anakin Skywalker is the star of the Clone Wars animated series, and now this galactic hero makes his bank debut! Measuring 8 inches tall, this vinyl bust of Anakin features styling from the hit Cartoon Network show, and includes a slot on his back for inserting your loose change. Sure to be our most popular Star Wars bank yet! Sculpted by Oluf Hartvigson! SRP: $19.99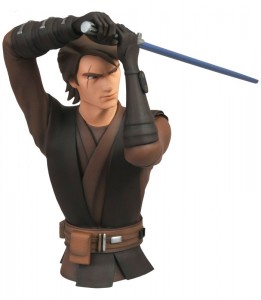 Marvel Minimates Series 48: Fantastic Four
Diamond Select celebrates the return of Johnny Storm to the Marvel U. with this series of Minimates depicting the Fantastic Four! The assortment includes Flame-On Johnny Storm and Blastaar, Mr. Fantastic and the Puppet Master, the Invisible Woman and Moloid, and a rare variant set featuring the Puppet Master's stepdaughter Alicia Masters and Moloid! Each Minimate stands 2 inches tall with 14 points of articulation and a variety of removable and interchangeable parts and accessories. The figures in this assortment will only be available in comic shops and specialty stores, so don't miss out! SRP: $8.99/two-pack.
Star Wars Boba Fett Neon Sign


The newest neon sign from Diamond Select is from the Star Wars galaxy, and depicts the famed bounty hunter Boba Fett! Measuring 11.5 inches tall, this light-up portrait of the Mandalorian manhunter comes with a base that allows for wall mounting or upright tabletop display, which makes it perfect for your desk or your basement cantina! SRP: $125.00
Star Trek Communicator and Tricorder Set
Get ready to join the away team! Whether your next mission is to explore Ceti Alpha V or attend your local sci-fi convention, you'll be ready to report back your findings with this set of detailed role-play items based on the original Star Trek TV series. The classic communicator and science tricorder both feature authentic lights and sounds, and are the crowning touches to any Starfleet uniform. Sold in a window box with try-me packaging. SRP: $75.00