Voting for the athlete that'll be emblazoned across the cover of EA's upcoming 2013 edition of NCAA football.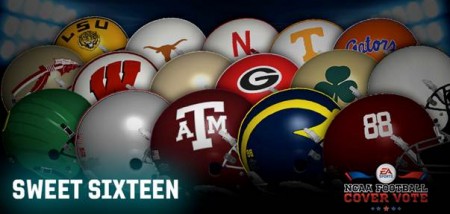 This current round of voting continues to be focused on the schools themselves that might be showcased on the cover of the college pigskin title. For this year's voting, Alabama's Crimson Tide leads the way with more than 10,000 votes up on the second place school- Texas A&M.
So far, the ranking looks like this:
1. Alabama

2. Texas A&M

3. Michigan

4. Ohio State

5. Oregon

6. Penn State

7. Notre Dame

8. Georgia

9. Navy

10. Wisconsin

11. Florida State

12. Florida

13. Tennessee

14. Nebraska

15. Texas

16. LSU
Vote totals have now been reset with the first grouping of schools having been eliminated. The next round will  narrow the field even more and get the list down to an elite eight.
This round will continue until January 22nd (so hurry up if you want your vote counted) and will then usher in the final round that will see the cover athlete chosen. In that last round, the 'school vote' format will be replaced by individual players that are representative of the final set of chosen schools.
There'll be an unveiling period for the chosen athletes which will last from January 23rd through February 3rd. After that presentation period, voting for the athletes themselves kick's off on February 4th.
Want in on the vote? Click here and get to it- your alma mater is counting on you.