A hard-boiled, boozing, time-traveling, detective from the '40s? Sold.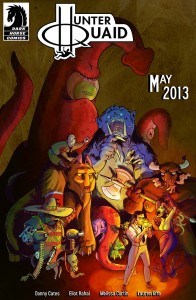 Hunter Quaid is so crazy and off the wall, that it just sounds like perfection.
Writers Donnie Cates and Eliot Rahal's tale promises to take readers on a wild ride through a world where not everything is as it seems and a " needlessly elaborate, totally awesome secret" overshadows all.
"The book is a ton of fun, something that Eliot and I feel is missing from a lot of modern comics. We couldn't be more excited to begin our story in the Eisner Award–winning Dark Horse Presents. It's an honor," stated Donny Cates.

Hunter is not the classic story of a perfect hero, but no matter what, when the chips are down and the world is about to end—Quaid is all we got, and all we need.

"Donny and I love comics; they have the amazing ability to embody positivity, and that's really what Hunter is about. We were just two desperately alone, and drunk, strangers who became best friends that wanted to write a funny, real, and inspiring character," Eliot Rahal explained. "Hunter is a labor of love and would be nothing without the uncanny conceptual art of Melissa Curtin, and the deadly color work of Lauren Affe; we are all so honored and thrilled for Hunter to have found his first home at Dark Horse Presents."
Look for Hunter Quaid to stumble into Dark Horse Presents #24 this May the 22nd