With a major role in the Marvel Movie Universe incoming in Avengers 2, the publisher is set to amp up the arch-villain's presence in the original Marvel U with Thanos Rising.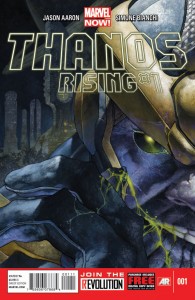 So who is Thanos anyway? He's a huge villain (literally) and has impacted headline characters like the Avengers, the Fantastic Four, and a ton of other Marvel heroes- and yet there's very little known about him.
Get ready for that to change as Marvel NOW! intro's Thanos Rising. The new book will explore Thanos before he became  the wielder of the Infinity Gauntlet and "demi-god of death" that we all know and love.
Other than glimpses here and there that long time Marvel readers will have picked up over the years, this promises be the first real look at the character's past.
Prepare for a visceral tale of tragedy, deceit and destiny like you've never seen before as readers dive into the shrouded history of the most talked about villain of the Marvel Universe. Who is Thanos, and where did this demi-god of death and destruction come from? And how does this story set up one of the biggest events in Marvel history?

"The story of Thanos' rise to power would make Shakespeare shudder," said Axel Alonso, Editor in Chief, Marvel Entertainment.  "The epic saga of a young boy, born in blood on a planet far, far away, who grows to become one of the most powerful and terrifying forces in the Marvel Universe, 'Thanos Rising' takes a cold, hard look at the eternal question: Are some people just born evil?'
Personally, I'm really looking forward to this one. Thanos has always been an extremely mysterious character and it just seems like his history should be a supremely interesting read.
Crafting that story, is none other than writer Jason Aaron, who sums up what you can expect to see from Thanos quite nicely. Feel good tale? Not so much…
"This is without a doubt one of the creepiest stories I've ever gotten to write for Marvel. It's the origin of an outer space serial killer, the story of the universe's weirdest romance and a grand cosmic tragedy, all wrapped up in one," explained writer Jason Aaron. "This is me taking five issues to really dig into the head of a space-faring world conqueror, mass murderer and hopeless romantic. I love writing stories with villains as the main character, and this book is about Thanos all the way."
Thanos Rising #1 hits stands this April from Jason Aaron and Simone Bianchi and will include the now standard Marvel AR features and complimentary digital copy.