All of Sackboy's LBP2 adventures in one place.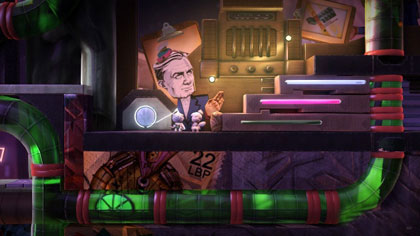 If you haven't gotten around to playing LittleBigPlanet 2 yet, then you might be interested to know that a new version of the game is coming out sometime next month, complete with DLC extras.
The LittleBigPlanet 2: Extras Edition contains the game plus a whole slew of extra stuff: –
LittleBigPlanet 2: Cross-Controller Pack
Rescue a band of good-natured pirates and travel across the Omniverse using brand new PlayStation Vita Cross-Controller gameplay in search of a fabled treasure.
LittleBigPlanet 2 Move Pack: Rise of the Cakeling
Something evil is baking and only Sackboy can stop it using the Brain Crane and his new PlayStation Move-enabled powers.
The Muppets Premium Level Kit
Join Kermit, Miss Piggy, Gonzo and the rest of the Muppet gang to put on the ultimate Muppet Show for LittleBigPlanet… Just don't let the mysterious theatre Phantom ruin the show for everyone. This adventure will have you running up walls trying to stop him, literally!
Costumes aplenty!
Whilst Sackboy travels across the Omniverse in LittleBigPlanet 2, you will come across a whole range of costumes for him to wear. On top of those included with the original release, the LittleBigPlanet 2 Extras Edition kits out Sackboy with the following bonus outfits:
The Muppets Costume Pack 1
Kermit, Fozzie Bear, Dr. Bunsen, Beaker
Weekend Pursuits Costume Pack
Skier, Golfer, Caver, Angler
Deep Sea Adventures Costume Pack
Deep Sea Diver, Edible Crab, Anglerfish, Pufferfish
Sports Costume Pack
Runner, Discus Thrower, Javelin Thrower, Hammer Thrower, Wrestler, Rhythmic Gymnast, Tennis Girl, Fencer, Horse Rider
Dogs Costume Pack
Bulldog, Dalmatian, Poodle, St. Bernard
Cats Costume Pack
Siamese, Sphynx, Persian, Marmalade
Source: PlayStation Blog