Fans of the hidden object adventure have a spooky new undersea adventure to "dive" into.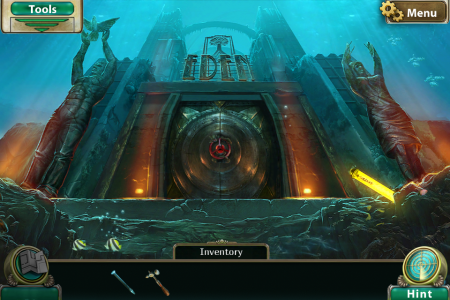 I love a good hidden object find, but let's face it. They can start to feel a bit monotonous without a good storyline to tie it all together. Fortunately, Abyss: the Wraiths of Eden passes the great story test with flying colors. With spooky demons, mysterious townspeople, and a spooky city hidden deep below the depths of the sea, this is a story that will keep you guessing (and playing).
You play as a character whose husband has disappeared while on an undersea dive. Rather than accepting he is gone, you resolve to dive to the bottom of the sea, and see the evidence for yourself. As you quickly find little clues dropped by your husband (Robert), it soon becomes evident that strange things are going on underwater. And when you uncover a mysterious city under the sea, you know you have to explore it and find your husband, at any cost. While the people in the sea seem willing to help, there is a matter of a malevolent spirit to complicate things further. If you want to save Robert, you'll have to take on the demon first.
As far as gameplay goes, Abyss: the Wraiths of Eden follows the standard hidden object adventure formula pretty closely. As you make your way through the game, you'll uncover more and more areas, each of which are marked on your map, making it fairly easy to tell where you are in relation to everything. You'll need to travel back and forth between various rooms and areas, clicking on items and reading cryptic notes, all in an effort to figure out what is going on in the not so idyllic city of Eden.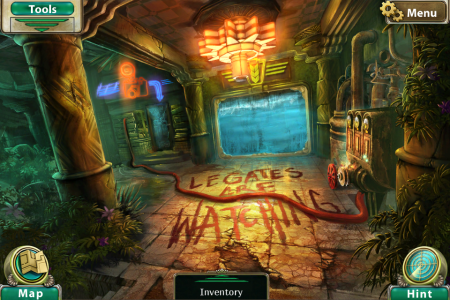 In this game, the object jumbles are just a small part of your actual gameplay. A lot of what is involved is uncovering various items like non-functioning machinery or locked boxes, finding the objects needed to make them work or unlock, and then making your way back to them. There is a lot of crisscrossing around the city involved, but if you are the type who gets frustrated with that type of thing, the developers have worked a little cheat into the game to help you out. Any of the areas that have actions available are marked with a giant yellow exclamation point on the map. If you get confused as to where you need to go next, you can always check the map (and if you aren't fond of cheats, the game is easily playable without ever accessing the map).
The object jumbles are about what you would expect. There is a jumble of various objects, and a list below showing which items you need to find. Any items that are in blue on the list need some sort of interaction before you can select them. Sometimes this is as simple as opening a drawer or lifting a cloth, and other times it is a little more complex, like filling a pipe with tobacco and then lighting it to collect smoke. The jumbles are challenging but not overly so (and there is a hint button if you get stuck on a particularly difficult object).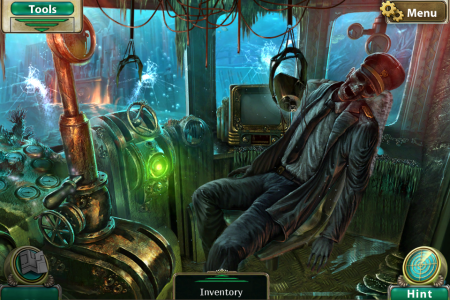 Each object find also gives you the option of completing a game of dominos in place of finding the objects. You can access it at any time (meaning you can find a few objects, and then switch to the dominoes). It basically works just like any game of dominos. There is one set of tiles on the board, and only tiles matching tiles can touch. The twist here is there are glowing emblems to reach. Each emblem represents one of the hidden objects from the list. When the emblem is touched with a domino, it counts as one item found. It's a fun addition to the game, and it really mixes things up a bit. If ever I was tempted to use a hint on a jumble, I merely switched to dominoes instead, and finished the puzzle that way.
One of my biggest complaints with having two different ways to finish these types of puzzles has always been that I'd love the option to be able to do both. Well, that problem has been eliminated in Abyss: the Wraiths of Eden with the addition of a special features menu. Here, you can access any of the puzzles in the game, and play them as many times as you'd like instantly. The special features also includes a prequel chapter to the game. This is a really cool feature, because it gives you a lot of insight into what was happening in Eden before your character arrived on the scene.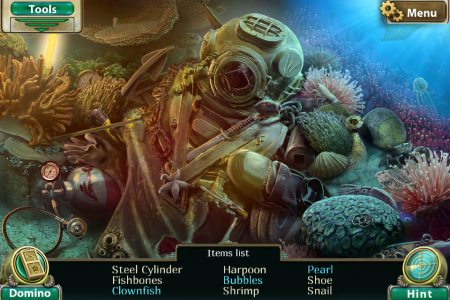 Final Thoughts:
Abyss: the Wraiths of Eden is what a hidden object adventure should be. The puzzles are challenging and varied, and the story line is interesting and engaging, with a whole lot of creepy thrown in for good measure.