Watch out for walkers when you're at Best Buy or GameStop today, because Telltale's boxed edition of The Walking Dead is now lurking in the game case at you local retailer.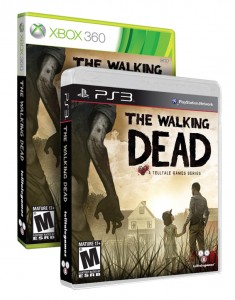 If you're not familiar with the game… shame on you. The Walking Dead is one of the best games of the year, bar none, and is nothing less than a total reinvention of the 'adventure game' genre that developer Telltale Games has been almost single handedly keeping alive and in the spotlight for years now.
The boxed edition (there's also a special edition that includes The Walking Dead Compendium graphic novel) collects all five episodes of the award winning game (Game of the Year at the VGA's) and will run you $29.99 for the Xbox 360 or PS3.
Even if you don't like the comics or the TV show (or even zombies in general), TWD is still worth playing. It's a fantastically mature and gritty game that actually forces players to make some very hard decisions. You will be thinking about it after you finish your run through. Trust me.