Standard and Collector's Edition versions of the second installment of Starcraft II are on the way in 2013.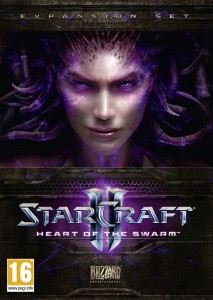 Two big announcements out of Blizzard this week. Number 1, we finally have a release date for Starcraft II episode 2; and 2, there will indeed be a limited edition of the game. Well, actually lets make that two limited versions of the game, both in physical and digital flavors.
The Digital Deluxe version of Heart of the Swarm includes a full digital copy of the expansion along with the following in-game bonus items:

–          StarCraft II Torrasque: Crush the enemies of the Swarm with the indomitable Torrasque, a fearsome new look for your zerg Ultralisks.
–          StarCraft II Battle.net® Portraits and Decals: New Swarm-infested Bat

tle.net portraits and decals help you customize the look of your online profile and in-game army.
–          World of Warcraft® In-Game Pet: The Baneling companion pet is bursting with enthusiasm and ready to explode onto the Pet Battles scene.
–          Diablo® III Blade Wings and Banner Sigil: Grow zerg-like wings in honor of the Queen of Blades, and unfurl an exclusive banner sigil to mark your allegiance to the Swarm in Sanctuary.

The Collector's Edition of Heart of the Swarm includes the full version of the game on DVD-ROM and contains the following exclusive bonus items, in addition to the content from the Digital Deluxe version:

–          Behind-the-Scenes DVD and Blu-ray: Immerse yourself in t

heStarCraft universe with developer commentary, interviews with voice actors, and an in-depth historical retrospective on StarCraft's eSports legacy narrated by key members of the community.
–          Collector's Edition Soundtrack CD: Enhance your Heart of the Swarmmusical experience with this collection of more than a dozen tracks from the game.
–          Heart of the Swarm Hardcover Art Book: This 144-page tome features never-before-seen art from the expansion, including early concept sketches and meticulous 3D renderings.
–          Zerg Rush Mousepad: This Collector's Edition mousepad depicts the Terran Dominion holding out desperately under the onslaught of the Swarm.
And if you want in on one of those famously hard to get Blizzard CE's, then you might want to order now becauseHeart of the Swarm is actually available right now for pre-order on www.StarCraft2.com  You won't be waiting all that long to play either as Blizzard has also announced that the RTS behemoth will be available in the first quarter of next year, on March 12th 2013.