A third installment of Dark Horse Comics' popular Dragon Age series is officially on the way for 2013- and once again, it'll be penned by the game series' lead writer David Gaider.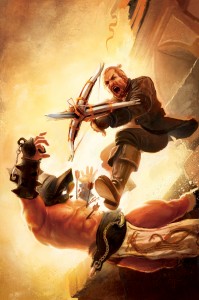 Until We Sleep will pick up the story from the last series and follow DA mainstays King Alistair, the pirate Isabella, and the dwarven rogue Varric as they resume their quest through the heart of the Dragon Age world.
King Alistair, allied with the world's most feared warrior race—the Qunari—the pirate Isabela, and the rogue Varric, brings a battle royal to the evil mage responsible for his father's disappearance!
The book will feature the talents of writer Alexander Freed in addition to Gaider, as well as the pencils of the very talented Mr.Chad Hardin. Big set pieces and massive action scenes are on tap for the book and, for sticklers, this will be once again an in cannon tale.
So for all you DA fans, this is one you probably won't want to miss. You can look for the first issue to be on store shelves on March 27th 2013.