It's a party in da club…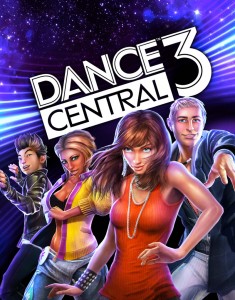 I've been waiting a LONG TIME for Dance Central 3 (DC3) every since they announced that E.U.'s "Da Butt" was on the song list. I'm a HUGE go-go fan (native Washingtonian here) so once that song was announced it was a done deal. I owned the first Dance Central and loved every minute of it including the sound track, which brought back such a feeling of nostalgia I created a playlist on my iPod.
DC3 features 46 tracks of popular and iconic music over three decades. There are so many game-play options in this title – the story mode allows you to travel back through time and learn the dance crazes of the decade (think The Shuffle and break dancing), there is a fitness mode, a dance party mode, a challenge mode – you can solo play or invite friends, both online and offline, to play.
Getting you started and training on the game is standard and I was happy to hear my favorite voice (pretty sure it's Arthur Inasi). Excitement won over and I just jumped right in, albeit on the easy level. I found myself in my own house party mode, where there was a suggested soundtrack & shortened songs; song length is easily fixed in settings. The uber sensitive Kinect was interested in the other people (including the dog) in the room jumping in a joining the party and dance-off – all they had to do was wave. My initial foray into the game left me wanting to come back to explore and play more, once my pulse rate settled.
The story mode involves a lame story about Dr. Tan and agents are sent back in time, blah blah gimmie more dancing. So you're sent back to the 1970's to the Lu$h Crew to dance and unlock the power moves in all the dances to then open a combo (re: new song & power moves combined to make a new dance) to then free the agents so they can return to Dance Central Intelligence (DCI) and resume their normal lives. As much as the story itself is weak, the game play is way more challenging than I thought it would be. Even though on the easy mode I was still getting red lines (indicating the tested appendage wasn't quite right) and you don't get a tutorial on the songs/moves; you're just tossed right in and you're going blind. You have to received a passing grade on the combo moves in order to advance and achieving that passing grade is H A R D. Multiple attempts left me hanging at 78%. So my agents are still stuck in the 70s.
I wanted to get into the musical and dancing goodness so I chose my girl…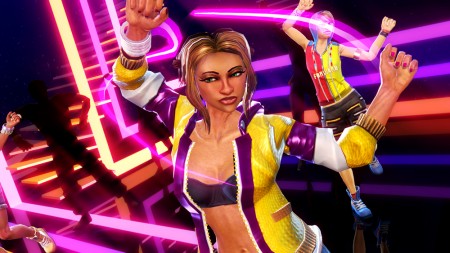 …and got to dancing. On normal game play I was able to choose the song I wanted, rehearse it and perform it. It was during the rehearsal I got to hear Usher and his supportive comments. Rehearsal mode has always been helpful but this time it wasn't so helpful and/or that easy. You don't get to see the moves first, they just give you a name and a still outline of what you're going to be doing, count you in and either you get it or you don't. If you don't get it you have repeat it three times successfully before you move on. That's all fine but the transition into the songs (counts you in) to then do one small move and then to have the character continue on dancing before restarting is just…confusing. And odd. And unlike it's predecessor, you don't get to go back and put all the moves together – like building up the dance combinations so you learn the routines through practice to then succeed when you perform it. I don't need a hand holding but better direction would be nice.
We paid the 400 Microsoft points to import songs from Dance Central. I didn't see any that weren't imported and they were mixed in with the other songs, delineated by a DC icon. The gameplay for those were just a blanket room in the underground dance club with stock characters. The routines were the same (ingrained in my brain from rehearsing them) but the scoring was updated and contributed towards your overall count towards unlocking content like outfits and such.
I set up my fitness mode, which allows you to create a song list of twenty songs (imported content included) and asks for your physical stats to create a calorie burner counter. I made it through 17 songs, still judging my dance moves for points added to my overall score and leveling up. They were VERY specific about choosing your age, too – they blocked out numbers based on your choices – so no one from the 1700s was going to be playing.
One of the improvements, and therefore highlights of the game (beside song selection), included the integration of voice commands. While still limiting in when it can be activated, you can voice command your way through song choice and mode and pausing during the middle of a routine. I had the music cranked so I had to really yell over the sound to activate it and high octave voices (like me) weren't as effective as lower octaves (like the husband's).
Another integration and improvement is the use of the Xbox Smartglass. We downloaded it for the computer.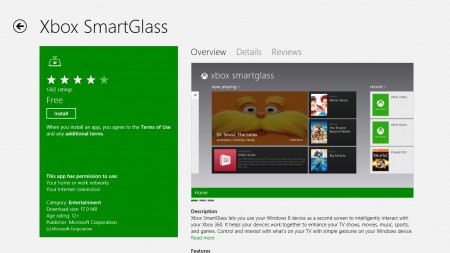 You have four menus – Party Time DJ, Playlists, Challenges and Fitness. Party Time DJ lets you choose songs from the game and place then on deck for you (and your party) to play. You can work the order, delete and add. It's a great thing to do ahead of time; you'll know your crowd, the songs & flow and there isn't any bickering about song choice. You can create your own playlists from the songs as well as set your fitness goals (1 day a week, etc.).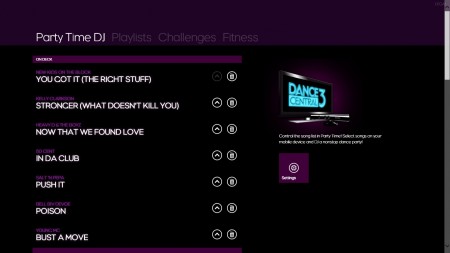 I also downloaded the Xbox Smartglass app for the iPhone and was really impressed with how it all worked.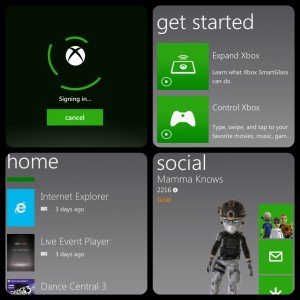 You can either watch a video on how it works or jump right in and use it as a remote controller for the system. The remote is pretty neat & very easy (and responsive) to use.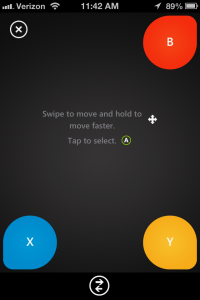 The menus are there and based on your most recent game play or game choice, they'll give you more information on it and suggest other titles you may like.
It knows if your system is on or off (but won't turn it on for you) and if you're actually in the game the menu changes a bit to include your achievements.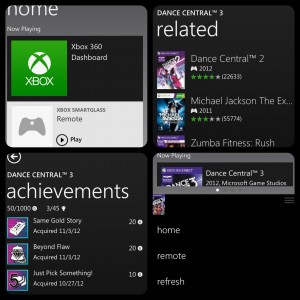 But, sadly, since it was just released yesterday it looks like it's not quite ready for in-game play use, though the screen on the TV is more than happy to tell you to download the app.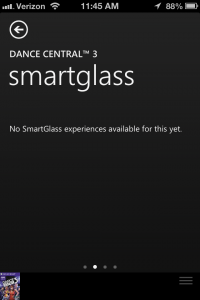 Final Thoughts:
Everything you love about these games is there – great music, dancing, different modes, solo and group play. Everything you hate about these games is there, too – loading screens that show a pixelated version of you grooving to some tunes that's off by 1/2 a second (enough to make you self conscious), the pausing of the song for a paparazzi shot of you looking like an idiot while dancing and then streams it all together in a mini-clip (note: only seems to be in the easier modes, thank God) and the red lines that make you very aware that you're not doing it right. You can also do a challenge mode, either local or online (assuming you have a Gold account). You can choose any song but watch closely – you can choose to challenge on a song you don't own & have to buy it. You can also share & upload your pictures and video to Facebook; you do have to set up a separate account for that to happen. While I wasn't bold enough for that, I did have a friend down under do it and it was fun to watch. The beginner and easy mode, while nice, kills my marching band geek need to do things in time to the music. I ended up focusing too much on the animated character's moves and getting them right, rather than just enjoying the music and dancing (cue Type-A personality). When you just enjoy it, you score higher. It **kills** me that I can't do "Da Butt" on beginner mode without screwing it up and looking mechanical.
In the end, while you think you're doing this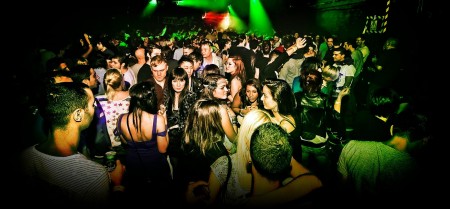 What you're really look like is this
For slaps and tickles I tried the hard mode for the song and fell in love. I see some rehearsing (and maybe a video) in my future.