Telltale's excellent adventure game take on The Walking Dead will be getting the full retail treatment in early December- complete with a Collectors Edition.
If you've been playing the game in it's episodic form, then you already know what it's all about (and why it's so darned amazing). If you haven't, here's what you can look forward to if you grab the retail box when it hits shelves.

Make every choice like it's your last…

The world we knew is gone. The dead have risen to feed on the living. The living cannot be trusted.

Starving. Never safe. Looking for hope. What would you do?

The Walking Dead is a critically-acclaimed adventure horror game set in Robert Kirkman's award-winning universe.  Beginning when Deputy Sheriff Rick Grimes is still in a coma, this is a new story telling the tale of Lee Everett – a man given a second chance at life in a world of the undead.

Taking an orphaned girl named Clementine under his wing, Lee must deal with true horror under the constant threat of walkers hungry for flesh… as well as other survivors, desperate enough to do anything to stay alive.

A tailored game experience – live with the profound and lasting consequences of your choices
Experience events, meet people and visit locations that foreshadow the story of Deputy Sheriff Rick Grimes
The world of the comic books brought to life with visuals inspired by The Walking Deadartist Charlie Adlard
Yes, to answer you're question, it's every bit as good as it sounds in that press release snippet. As for the Collectors Edition, you won't find any statues or other 'collectibles', but you will find a special edition of the The Walking Dead Compendium.
The special edition tome contains the first 48 issues of the comic book and will not be sold separately (though there is a version of the book that's been out for a little while now, hard as it is to get ahold of). It's also a $59.99 value all by itself, a fact that becomes even more relevant when you consider that the  entire Collectors Edition package will only run you $69.99 USD. Not bad at all if you're a big Dead fan.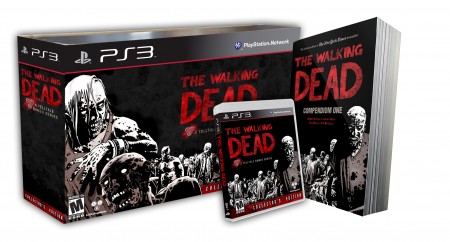 The Walking Dead – Collector's Edition (GameStop Exclusive)

Extremely Limited for Pre-Order ONLY, MSRP $69.99 USD
The Walking Dead Compendium One featuring exclusive Charlie Adlard cover art. Over 1,000 pages collecting the first 48 issues of Robert Kirkman's award-winning comic book series. (Standard edition of the first compendium without special edition artwork valued at an MSRP of $59.99 USD. This Collector's Edition of the Compendium will not be sold separately.)
Collector's Edition box with Charlie Adlard artwork
Game disc containing the entire first season including Episodes 1 through 5
Look for the standard editions of The Walking Dead on store shelves for the Xbox 360 and PS3 on December 4th. They'll be joined by the Collectors Edition of the game, which will be available exclusively at GameStop stores.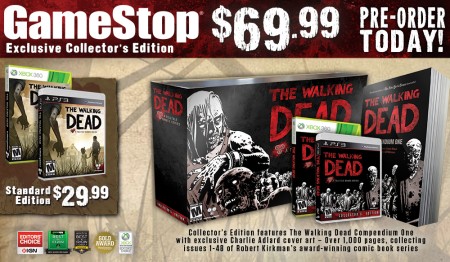 And if you've been paying episodically- don't forget that episode 5 'No Time Left' will be out before the boxed editions. Though there's no firm date yet, you can expect to see that one added to Xbox Live, the PSN, and Steam sometime (probably at the end of…) next month.