Coming in 2021 is the first Aliens Omnibus from Marvel Comics. That's right, Marvel. But there's a heaping helping of Dark Horse stories inside.
Marvel though?
Yep. I had all but forgotten, but Marvel Comics is picking up the rights to Fox' Aliens franchise when it comes to comics. And while that might mean some new stuff, it also means a look into the past.
Marvel has announced that they will be publishing an Aliens Omnibus series of books. It all kicks off with a chunky volume due next spring, that will run through some of the best stories that appeared in Dark Horse Comics' lengthy run with the IP.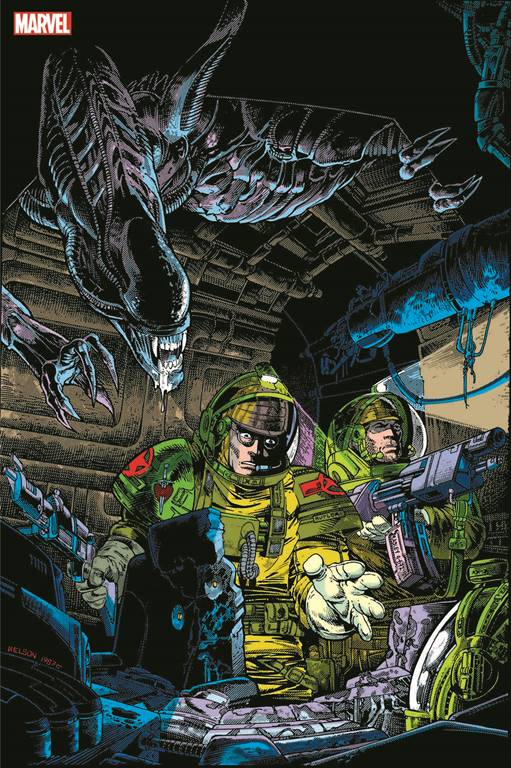 This unprecedented collection will contain: Aliens (1988) 1-6, Aliens (1989) 1-4, Aliens: Earth War (1990) 1-4, Aliens: Genocide(1991) 1-4, Aliens: Hive (1992) 1-4, Aliens: Tribes (1992) 1, Aliens: Newt's Tale (1992) 1-2, Alien 3 (1992) 1-3 and Aliens: Space Marines (1992) 1-12—plus material from Dark Horse Presents (1986) 24, 42-43, 56; Dark Horse Presents Fifth Anniversary Special (1991) 1; and Dark Horse Insider (1989) 14-27. Check out the direct market exclusive cover by artist Mark A. Nelson below, and be on the lookout the all-new main cover by superstar artist Greg Land and more news about future Alien collections and comic books coming your way!

Marvel Comics
The book is set to land in stores next April.