One of BrutalGamer's biggest PlayStation fans takes a look at the just revealed PS5, as well as the games announced. So, is she impressed?
The PS5 reveal event has come and gone, but what remained burned in my mind? Which game am I looking forward to the most? I'll be singling out standout games for all the wrong and right reasons as well as a few oddballs here and there. I'll also give my "artistic" opinion of the PS5's new look. Without further ado, lets begin!

The Good

Wow, there's an amazing plethora of games heading to the PS5. Mostly third person titles within the action/adventure genre. There are also only 2 First-Person games that I saw, those being Ghostwire: Tokyo and Deathloop. Just something interesting to note.

Games to watch out for:
These are games that aren't coming out this year but have an interesting premise and their trailers were solid in making an impression.
Stray
An interesting trailer with more than meets the eye and a cute little cat courier. The game seems to be set in a bleak future where humans are dead and only a society of robots remain. There are a lot of details in the trailer which create a ton of world-building, which I appreciate. The cat that roams around seems to be a delivery cat as revealed at the end. The sound design is also excellent.
Project Athia
Very short, kinda vague. Project Athia seems to be a third-person action/adventure with the female protagonist taking huge leaps across a highly detailed landscape. There's a sense of wonder and freedom with that type of environment and navigation that is always welcome in games. The creature design and color choices are very inviting and intriguing as well.
Ghostwire: Tokyo
I mentioned previously this would possibly be an interesting title and I'm glad to see more of it. 99% of Tokyo's population have vanished and, using your paranormal powers, you must find out what happened. With great graphics and a focus on Japanese folklore and spirits, Ghostwire: Tokyo is setting up to be a good looking game.
Solar Ash
Being developed by Heart Machine, creators of Hyper Light Drifter, Solar Ash is quite stylized with simple flat cell shaded colours. It reminded me of Furi. While nothing is certain, it has a nice set of scope and intrigue. I hope this title will be as good as Hyper Light Drifter.

Little Devil Inside
By far a standout among the brighter, grandiose games in the reveal. This humorous macabre trailer seems to show off the hired assistant a professor uses to gather monsters and materials for… whatever reason. The assistant must survive and defeat monsters using an array of gadgets. The combat, exploration and monsters look very interesting! The simple models and clean shading is a unique artistic direction too.
Returnal
An interesting, highly visual take on third-person shooter roguelikes. Returnal's trailer presents an older female astronaut stuck in a death cycle after she crashes into a mysterious planet and is killed by something. After every death, a new environment with different enemies awaits. The voice acting and story elements seem great, though the logo could have been better. The color and font reminded me of "Haze".
Destruction Allstars
Wow, this looks like chaotic fun reminiscent of Split Second… An array of colorful characters with their own vehicles? A team racing battle with incredibly detailed destruction? Drivers can exit their vehicles and screw around with other cars? Hilarious antics with a good polish that I can get behind.
Kena: Bridge of Spirits
Wholesome, cute, story driven action adventure. Kena, a spirit guide, sets out to find out what happened to their village. Kena can befriend spirit companions called the Rot that are used to interact with the world in a variety of ways. A very charming, somewhat "Kubo and the 2 strings" kinda game!

Games coming out later this year:
Jett: The Far Shore
Jett: The Far Shore is beautiful. It is a cinematic action adventure where you go into space to find a new home for your people, who are "haunted by oblivion". Fantastic soundtrack combined with a minimal art style and strange worlds to explore. It kinda looks like if Flower had a baby with the movie Interstellar and was decked out with a sprinkle of Ghibli.
Deathloop
I noted this one previously as well! Colt is stuck in a timeloop on the mysterious island of Blackreef. To escape he must kill 8 targets including his nemesis Julianna Blake. He has weapons and some magical(?) powers at hand. The art and gameplay reminds you of Dishonoured (it is developed by the same studio, Arkane, so makes sense). The gameplay looks fun and intricate, with a possibly 'many ways to defeat your enemies' type of deal. It's suspected that when you play as Colt another player can play as Julianna and 'invade' your game and screw up your progress as well. That would be quite interesting!
Bugsnax
Move aside Last of Us Part 2, this is Game of the Year, need I say more? (Song by Kero Kero Bonito of Flamingo fame). Jokes aside, this game looks very humorous and whimsical. It seems you are the mayor on the island of Bugsnax where food lives (Cloudy With A Chance of Meatballs 2 anyone?). As you eat them, they change your body. It looks like silly platforming, village management fun! Nothing wrong with that.

The Mediocre
Godfall
Godfall's gameplay trailer shows exactly what I had expected after the first trailer… That it is bland. It has standard combat with an aesthetic that just reminds me of an MMO. There's really nothing to note here. Pretty armor and gaudy marble backdrops will be getting this game nowhere. The music used for the trailer is also an odd choice which people have been hating on.

The Why Tho?
Goodbye Volcano High
Goodbye Volcano High is… an interesting looking game and frankly, an odd choice for the PS5 reveal roster. It isn't as visually thrilling as other titles and it looks like a DeviantArtist's first visual novel. It was clearly made by someone of the anthropomorphic leaning with regards to dinosaurs… Aka Scalies, it's a game made by Scalies for Scalies and seems like Jurassic Park got slapped with teen angst. While I am not the target audience, there will probably be a niche group of people who may like this game. I don't think the game should be hated as much as it is right now (currently the most disliked trailer of the bunch if I am correct) but it was a bad idea to pitch it next to all these other titles.

The WAT?
Pragmata
Astronaut/Space Man seems to be in a simulation or holographic projection on earth and is suddenly thrust into space when a satellite crashing into the world turns the gravity off. He then lands on THE MOON with the little AI girl. No idea what this game is.

The Sequels
These are games that have had prior titles: Spider-Man: Miles Morales, Horizon Forbidden West, Gran Turismo 7, Ratchet & Clank: Rift Apart, Sackboy: A Big Adventure, Oddworld: Soulstorm, NBA 2K21, Resident Evil Village and Hitman 3. Most of these games have a good record of prior titles such as Spider-Man and Horizon so I won't go too deep into them. However, 1 game is deserving of slight teasing for being a little silly.

The Bizarre
Gran Turismo 7
Ok, so Gran Turismo 7 has all sorts of graphically intense looking stuff (ray tracing is one of them) and some hectic textures but look at this weird choice for a in-game menu:

Um, why? Is it meant to look like a mobile app? I was waiting for an unskippable ad to popup that I then couldn't close because there were 3 different exit buttons. It seems a stark contrast to the racing awesomeness you see in the rest of the trailer (there's a very delicious bumpmap you can see on the inside of the car). I can only think it was the last thing they had to add and did the minimum viable product that looks good enough. Also, real static human profile pics… Ok…

But… what if it was INTENDED to look this way for microtransactions?
Oh crap. I HOPE I'm not onto something…

The Reason I Will Buy A PS5
Demon's Souls
While it is possibly a cash grabby thing to do, I am glad to be able to get the opportunity to play the game that started the Souls genre. Demon's Souls is an ancient beast. It was released on PS3 11 years ago. Since the release of the PS4, fans of the Souls series were asking for a remaster or remake of Demon's Souls.
This trailer is unbelievable hype! The remake (REMAKE! Not remaster!) is being developed by Bluepoint Games – the same studio responsible for Shadow of the Colossus (and numerous other remasters/ports)! All things are looking peachy keen!

Demon's Souls, from my memories of watching gameplay on YouTube, was ok. I can't say whether it was good or bad without having played it. There is also no release date confirmed yet, so here's hoping for next year!

The Wifi Router
Finally, to end this massive article off, the console itself. As I speak, it is being memed to death.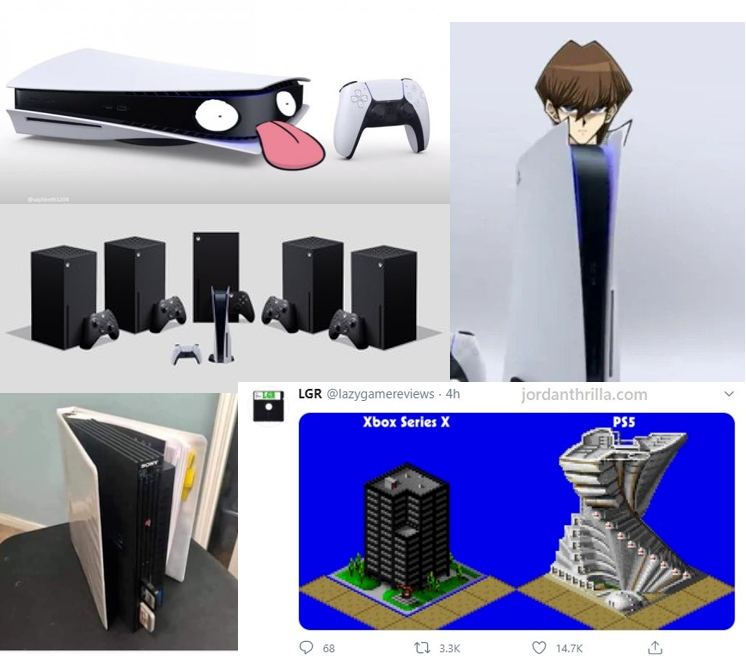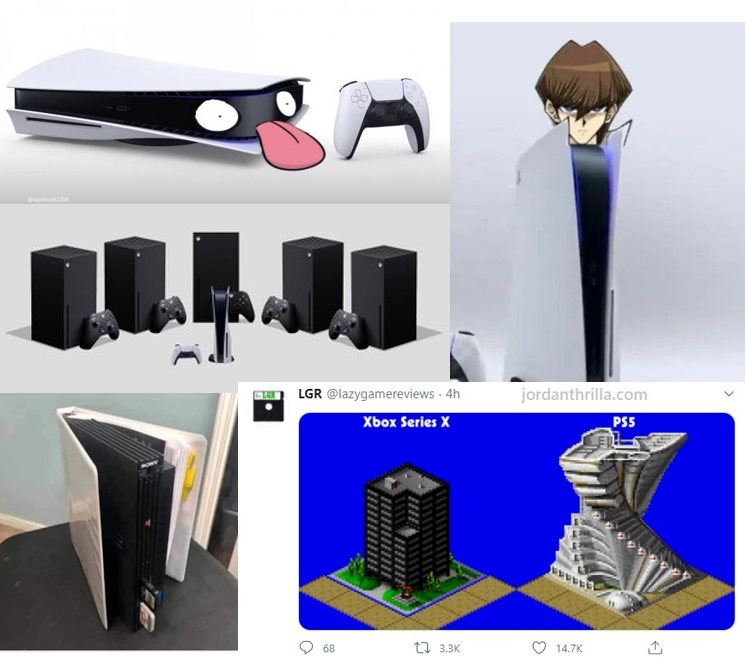 I have no issues with the 2 tone look they're going for. The PS5 looks more modern, stylish and clean. I have reservations about the form of the console however. The ventilation looks kinda small and may create another overheating fiasco as seen with the PS4. The corners (or "popped collar") of the case look extremely snappable… Unless it isn't plastic and is steel. Press X to doubt. The case looks like it belongs only in a vertical position and doesn't look great horizontally whereas other cases could pull off dual positions.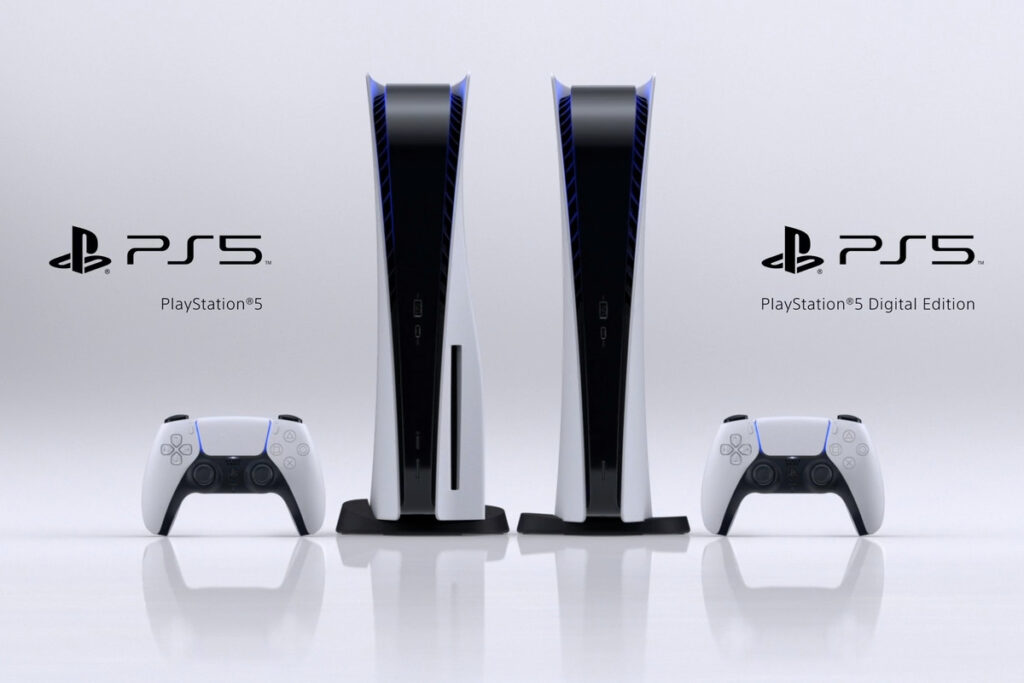 What is nice to third world country people, such as myself, is the choice of a disc drive version – possibly for owners of compatible PS4 games or people who have Blu-Rays. This reduces the amount of downloading, allows game collectors to still buy physical copies and use them, and makes the case look like a cat!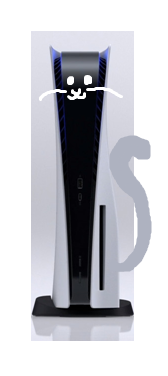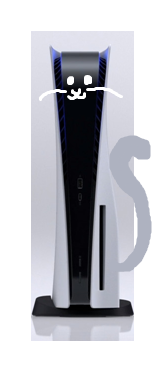 However, what is not nice, is speculation about how much this router will cost. Sources speculate around $500 USD, which may be OK overseas. But here in marked up/poor economy land, we'll likely have to fork out R10 000 or more. For comparison, R10 000 will get you a Nvidia RTX 2060 as of writing.

Overall
The reveals have shown a huge lineup of amazing exclusives. XBox will need to seriously step it up on the exclusives because I haven't been interested enough to buy any of their consoles at all (Sea of Thieves looked great but I had no one to play it with and now it's been ported to PC so why even get an XBox?). A lot of people have been comparing performance points, but I could care less if the new XBox can run games 10% faster when it can't play Demon's Souls or Shadow of the Colossus (I hope!). And sure, those new games may be ported to PC but as stated in trailers, for now they are PS exclusives! I also do like a nice media center and the PS4 seemed kinda dope at that. All in all I am quite hyped for the PS5 but will probably wait a bit after launch to ensure all its kinks are sorted. Here's to a new generation of gaming!