Dark Souls Remastered has recently released, with some criticizing the game as a cash grab and others supporting it as a 60fps release for newer consoles and players. Among the countless arguments surrounding Dark Souls Remastered a common theme among them was differentiating the game from a remake. So, to help clear up some of these misunderstandings, I have decided to look into it. What exactly is a remaster and what makes it different from a remake?
Here's the facts with sources:
Remaster
"Remaster" was originally used to define the enhancement of audio/film by creating a new master. Duplicates of audio/film were made using the original master (the definitive copy) and creating duplicates from it such as CDs. A remaster would then be, for e.g., using the original master and transferring it to a higher quality medium (hence analogue to digital conversion e.g. tapes to CDs).
While not always the case, remastering something such as a music album gave creators the opportunity to fix any imperfections from the previous master by using new technology. By doing so they would hope to entice consumers to purchase the new release. Film is similar whereby visuals and audio is touched up, fixed and improved.
Remasters have been criticized for transforming the original source material to the point where it is no longer the "same" as the original or degrading the original source material – opposite to its intended purpose.
Remake
A remake is something that is made again from scratch and can be made similarly or differently. An example is recreating a film for a new audience in a new medium such as 101 Dalmations.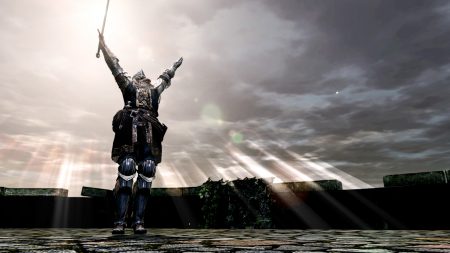 The Difference?
A remake consists of creating something from scratch. In video game terms, the entire video game is recreated – usually from the code, to the models and textures. A recent example is Shadow of the Colossus.
Shadow of the Colossus is a game that now has a remaster and a remake. The remaster consists of "support for high-definition monitors, higher frame rates, stereoscopic 3D, and additional features for the PlayStation Network.". The remake remade all assets for the game and includes reworked controls.
Here you can see all 3 compared and note how the remaster does not have any drastic texture changes whilst the remake does. This game is a great case study for comparing the differences and showcasing the difficulties among all of them. The remaster could be graphically underwhelming to new players while the remake has criticism for its controls and camera. Both were faithful despite the criticisms and were received well.
Dark Souls Remastered: The Triggering
Dark Souls Remastered is pretty much the very definition of a remaster. It now supports 60fps, supports 4k resolution, can support up to 6 players and has a new dedicated server. So why are people up in arms and upset about specifically its PC release?
Well, it has missed addressing some bugs that have been observed by the community for over 8 years. Amusingly, it also still has unused assets from the previous game now seen in 4k 60fps. It has seen tons of Steam complaints about hackers making their grand return. Not to mention bans being leveled against the victim of the hacker, but not the hacker themselves.
As a remaster, it has indeed gotten its touch ups. Those include revitalizing PVP and allowing new players to join in on the fun that started it all 8 years ago. However, veteran players seem unimpressed. They're seeing the broken PVP bugs as well as the lack of significant visual updates as insulting.
While visual updates are subjective and could require remaking the assets, the lack of bug fixes is indeed an indication of a sloppy remaster. As mentioned above, remastering allows for touch-ups and fixing errors. For bugs that are 8 years old and well documented to still be present in the remaster is frankly laughable. Depending on the extent of a bug I believe it would not be considered a remake to fix a piece of code.
In my opinion, one of the most egregious offense of the remaster considering the above bugs is its price tag – $39.99 on Steam.
At the very least it is discounted to half-price for original owners of Dark Souls 1: Prepare to Die Edition. Some price comparisons can be made with some of the other recent remasters and remakes. The following have at least 3 or more games remade in HD with relatively greater overhauls under their belts than Dark Souls Remastered. Examples being Halo: The MasterChief Collection, Crash Bandicoot N.Sane Trilogy (more remake than remaster) and Uncharted: The Nathan Drake Collection (to be fair Halo: The MasterChief Collection and Uncharted: The Nathan Drake Collection are $59.99). The Shadow of the Colossus remake is also a bargain at $29.99, with the old HD remaster $9.99.
FromSoft also decided to remove the original Dark Souls: Prepare to Die edition from Steam too. They're permanently blocking customers from ever buying the old game. A game that was modded and improved by the community for over 8 years. This has also been seen as a slap in the fans' faces. When Dark Souls came out originally on PC it was (and probably still is for current owners) a horrendous port.
Despite that, modders fixed bugs within minutes of its release and continued to fix what From wouldn't. As of now I haven't ever seen Bandai or From acknowledge or thank modders for effectively fixing their game and making it playable. They never seem to address bug concerns on Steam or in their forums either. Personally, I have seen a bug forum I contributed to for Dark Souls 3 vanish into nothingness (the page no longer exists and I never got a reply on my original bug post).
The Fire Fades
As a remaster, a lot of players feel they aren't getting their money's worth or that more should have been done. Many feel saddened by the lost opportunities and imagine how great the game would have been as a remake. As a port to new consoles, I'm a bit frustrated by the lack of real work put in but I am glad newer consoles can replay the old classic.
I am disappointed at this polarizing PC release but mainly with Bandai and FromSoft for not addressing the community anywhere. As far as bug reporting and discussion is concerned I read nothing. They seemingly stand in the shadows and just watch as the age of fire burns anew. Dark Souls Remastered is rated 6/10 on Steam at the moment with every other Dark Souls game at a solid 9/10. Only time will tell if Dark Souls Remastered will be rekindled or allowed to fade.