For the first time in English comes Red Sonja: The Red Goddess from author Roy Thomas. Landing this Holiday, this one sounds like a must for fans.
The Goddess rises
"Red Sonja: The Ballad of the Red Goddess is easily one of the most beautiful and prestigious books we've ever had the ability to publish and we've been publishing Red Sonja since the very dawn of Dynamite," said Nick Barrucci, CEO and Publisher of Dynamite Entertainment.  "Roy Thomas' story is incredible and Moroto & Casas' artwork is unreal. This is the Red Sonja book everyone should have on their shelves."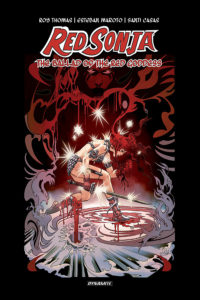 That's some kind of statement from Barrucci, considering Dynamite has published a  whole lot of Sonja over the years. This book is somewhat special though, and that's true of its origins as well as its content. The Red Goddess is presented here for the first time in English, which is interesting given that the character was created by Robert E. Howard. And of course, that the author is Roy Thomas.
Spanish publisher Planeta is working hand in hand with Dynamite on this edition however, and it sounds like quite the tale. Red Sonja: The Red Goddess sheds light on the mysterious origins of Sonja herself, as well as "a tale of intrigue, deception and the search for eternal youth!"
The art sounds absolutely stunning too, from the team of Esteban Moroto and Santi Casas. Not in full color, The Red Goddess is instead cast in black, white, and red. Given Sonja's predilection for the blade, that might mean a lot of that last shade.
There will be two versions of the book too, with a special edition joining the standard, hardcover tome. The limited signature edition will bear Roy Thomas' autograph across it, and will be limited to just 500 copies. So, if you want it, make sure you get your order in.
Expect to see The Red Goddess solicited in the September issue of Previews, for a November launch.