Ash meets a girl, travels the world and takes on Count Dracula in Evil Dead 2: Revenge of Dracula.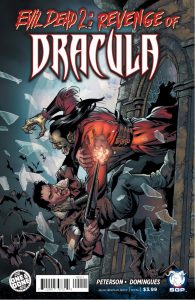 Evil Dead 2: Revenge of Dracula
Are you a fan of Evil Dead? Maybe you've seen Army of Darkness? How about Ash Vs Evil Dead? If you are familiar with these names, then chances are, you are familiar with Ash Williams. Ash is something unique: he is incompetent in almost everything, save for drinking and killing deadites. While in the films, Ash has severed his hand to save his life, though this is an arc in which Ash was grown from that severed hand.
Bad or Bad
If you've been following us, we've been covering Ash's encounters with some legendary figures. Now he is facing one of the biggest baddies yet: Dracula. The story starts like most Evil Dead scenes. Ash meets a pretty girl in a bar, Ash puts the moves on pretty girl, pretty girl knocks out Ash. Pretty girl steals Ash's Necronomicon. This is pretty standard fare for Mr. Williams these days.
Ash follows the pretty girl to a remote location called Cluj-Napoca. He figures out a way to make a few bucks while he's trying to track down the girl. Ash finds the girl in the dungeon of an old castle. (Of course he does.) Well, can you imagine what Ash's pretty girl is up to in said dungeon? She is raising Dracula with the help of the Necronomicon.
The Other Hand
As nothing ever goes right when the Ex-Mortis is involved, that's precisely what happens next. Dracula steals the Ex-Mortis from the pretty girl, only to be confronted by Ash. Though before anything else can happen, Dracula is distracted by something. But what could scare an immortal vampire, let alone one such as Dracula?
There's always something bigger and badder around the corner. Dabbling with the Necronomicon is not a good idea, regardless of who you are. Ash's pretty girl got more than she bargained for when she got her hands on that book. Lucky for her, Ash is a sucker for a pretty girl.
Scott Peterson really seems to have Ash down here. Brave to a fault, easily duped by a skirt. This particular book ends with a question mark, so who knows if Peterson will revive his story in future books. There is certainly an audience.
Sink your teeth into Evil Dead 2: Revenge of Dracula at your local comic book establishment. You won't be disappointed.
Evil Dead 2: Revenge of Dracula
Writer: Scott Peterson
Art: Yvel Guichet and Horacio Domingues
Cover: Yvel Guichet & Joe Rubinstein (Cover A), Kelley Jones (Cover B)
Evil Dead 2: Revenge of Dracula is brought to you by Space Goat Publishing.
Fanged Frights
Plot - 87%
Writing - 95%
Art - 94%
Ash has run into more than his fair share of baddies, but Dracula is one of the biggest. Or is he? Check out how things play out in Cluj-Napoca.