The second issue of Udon's new Street Fighter comic book will be getting some variant love, with a few special editions set to arrive on the racks.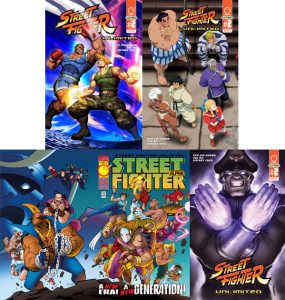 There's little that you can say about Udon's history with Street Fighter that hasn't been said before. Quite frankly, the publisher knows what it's doing with Capcom's historic fighting game franchise. That's something that's evident in their newest comic too, Street Fighter Unlimited.
The book covers several Street Fighter era's and basically melds the somewhat confusing timeline into one cohesive narrative. The second issue, for example, follows Guile as he looks into Gill, and reveals the history behind Necro and Effie.
"Guile and friends are on the hunt for the truth about Gill's Secret Society, but the answers they want lay with an old enemy – Balrog, the blood-crazed boxer! Plus, a bonus story featuring a pair of science experiments gone wrong – the mysterious Necro and Effie!"
And as with the opening story, there'll be some variant covers to be had with this issue as well. The standard covers (there are two), feature the work of Gonzalo "Genzoman" Ordonez Arias, and Jeffrey "Chamba" Cruz. Cruz' work, by the way, continues the 12 part (yes 12) interconnected cover illustration that starts off with issue #1.
Then there are the retailer-incentive covers, which includes the retro-90s cover 'C' by Edwin Huang, and the Street Fighter V homage cover, which is labeled 'D' and comes from Steven "Kandoken" Mack. You can check all of the above out in the image at the top of this story, and find all of them (or some of them at least) at your local comics shop this coming January.