The G1-faithful Transformers game from Activision and PlatinumGames has an infusion of content in the form of new skins and weaponry.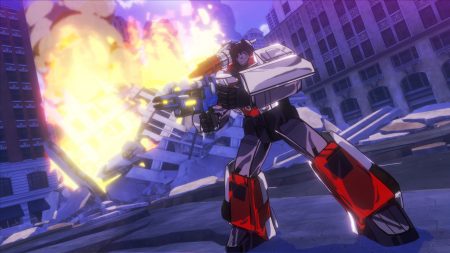 A trio of new character skins are now averrable for Transformers: Devastation along with an equal number of weapons. The DLC pack, which comes as a bundle of all of the above, includes some pretty niche characters that longtime fans of the boys from Cybertron should know.
The DLC is interesting, if for nothing else that it's not even close to the route that I would've thought Activision would have gone down with the game, which otherwise stars some of the most memorable characters from the original '80s cartoon show. Still though, it's pretty awesome to see some of these bots in action, as there isn't much chance of seeing the pretty much forgotten Nemesis Prime in anything else, and I think that same can be said of Goldfire (I don't even know who he is!) and Red Alert for that matter.
The pack is available now and will cost you $4.99 USD; here's what's included:
The "TRANSFORMERS: Devastation DLC Bundle" contains three dazzling character skins, NEMESIS PRIME, RED ALERT and GOLDFIRE, as well as three powerful weapons of destruction:
The Dark Star Saber, a fearsome blade which radiates waves of dark energy with every swing.
The Photon Disruptor cannon, dealing massive damage at short range.
The twin Golden Hunter blaster pistols, which cause enemies to drop credits when attacked.