I had never heard of Atomic Robo when I started to read issue #2 of his comic, but I was so impressed that I did some research. Thanks Wikipedia!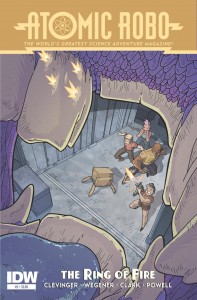 Atomic Robo was created by writer Brian Clevinger and artist Scott Wegener and debuted in October of 2007.  The mini-series was nominated for a couple of Eisners.  Flash forward to June 19, 2015.  Clevinger and Wegener announced on atomic-robo.com that IDW Publishing will handle the physical printing of all Atomic Robo comics.  For those who don't know the great Atomic Robo, I will get on with the show.
At first glance, the story seems to be another robots and monsters comic.  And it is.  But I think that's the point.  Clevinger and Wegener clearly love the old Godzilla movies and it shows.  Scott's art is appropriately manga-influenced.  Wegener does a really good job of showcasing and designing more of the world. Brian's writing is superb.  I have always believed that the use of humor in writing shows humanity,  and these characters have humanity in spades.  Clevinger's writing really shines during the final third of the book.  He is able to create a sense of apprehension, a wave of relief, utter shock and dismay, relevation and enlightenment, and finally chaos and confusion all in the matter of a few pages.
Robots with human traits are nothing new to science fiction.  The line between science and government is also nothing new to explore.  But Atomic Robo makes both clichés something new and fresh.  Atomic Robo's friends are on a mission to revive him and do so with jumper cables.  Funny, yet it also seems a logical thing to do, if you were in that situation.  Let's talk about the head of our hero.  Atomic Robo's head is the only thing we see in Atomic Robo #2, but it is enough.  Our hero conveys enough emotion through dialogue and eye-movement alone that we have a perfect understanding of who Atomic Robo is. 
Final Thoughts
There's one thing I didn't bring up yet which might be occupying your mind when you read the comic: "This is very similar to Guillermo del Toro's Pacific Rim".  And yes, the movie and the comic book are somewhat similar.  But Atomic Robo has one thing Pacific Rim lacked: humor (well, Pacific Rim had some scenes that were meant to be funny).  In conclusion, if you like robots and monsters, (and hey, who doesn't like robots and monsters), this is the comic for you.