Okay, so maybe this new set of Batman bookends won't terrify bad guys, but they are pretty awesome.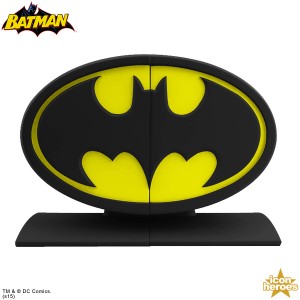 Chances are, if you're familiar with collectible company Icon Heroes, you know them from their awesome Masters of the Universe diorama statues. Their Snake Mountain and Castle Greyskull are pretty legendary, but Icon Heroes actually has a pretty nice lineup of other cool stuff too. Case in point, these rocking Dark Knight bookends.
Great for holding pretty much anything up and in a displayed position, IH recommends sandwiching some games, movies, and of course, books in between the classic yellow and black bat-symbol. Measuring approximately 6.5″ H x 8.5″ L x 3.25″ D, they should make just about anything cool pretty darn awesome.
You'll be able to add them to your collection in the third quarter of this year.