Lots to like in this preview of what's on tap for NECA in 2015 including a pretty massive expansion of the 8bit classics line, a quarter scale Christopher Reeve Superman, and tons more.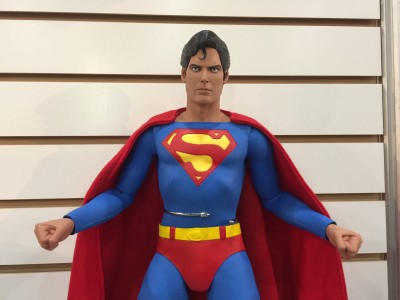 I'm a pretty big fan of NECA and what they regularly do with properties like Alien, Predator, Terminator and a bunch more. The toy-makers produce highly-posable, ultra-detailed figures on a regular basis, and their toys regularly look nothing short of awesome. Most of the time, the company hits home runs, and that's probably putting it mildly.
One line that I kind of didn't see coming though is their 8bit series. These toys are repaints of already existing NECA figures, but done up to look exactly (sometimes scarily) like their classic video game appearances. They're even packaged to look like they're in the original game boxes. I have the Predator, Robocop, Batman, and a few of the Robocop vs Terminator figures, all of which look phenomenal.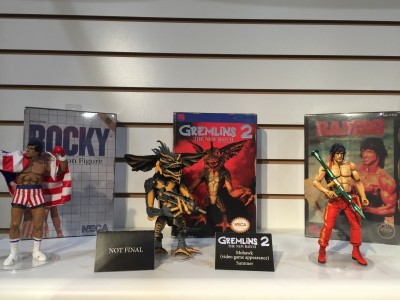 The line is getting much bigger here in 2015 though, with redeco's of Rambo, Godzilla, Gremlins, Devil May Cry, Predator 2, Alien 3, and Rocky (from the Sega Master System!) all on the way. And in a cool little twist, the first figure from a comic book appearance is on the way as well, with an amazing looking Predator from the original Dark Horse series.
One of the greatest action stars of all time, Arnold Schwarzenegger made a few appearances in the booth this year as well, with figures based on his turn as the Terminator in T2 (which is an Ultimate figure) and John Matrix from Commando, which was a pretty fantastic surprise. Those looking for comic book characters won't be disappointed either as Danny DeVito's Penguin from Batman Returns is getting an amazing quarter-scale figure, along with a large scale Batman from Arkham Knight, and Christopher Reeve's Superman from the original films.
Then of course there are the Blizzard figures, the Mego-styled horror and cult classics, the Master Chief motorcycle helmet, updates to both the Predator and Alien lines, and that awesome Power Loader. Have a peek at all of the above in the gallery below and plan out your purchases- it's going to be a busy (and expensive) year.