A subscription-based digital comics platform, ComicsFix is an up and comer in the e-comics arena. Now Valiant Comics has thrown their weight behind the service and will be offering a full catalog of books through them.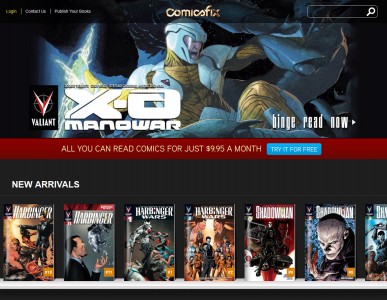 "We are so proud of this partnership," said Felix Kiner, founder and CEO of ComicsFix. "Valiant is one of the most beloved publishers in the history of comics with good reason. Now, ComicsFix members have access to the characters and origins that made the Valiant Universe great. Our members will be thrilled to learn of these brilliant additions."
Starting with the key reads from Valiant's Universe, the publisher will be adding new comics to ComicsFix on a monthly basis going forward. A subscription service that delivers unlimited comics and graphic novels to readers for a cost of $9.99 USD a month, the platform is actually a pretty phenomenal deal if you tend to binge on books. Right now, you can download the first two volumes of X-O Manowar, as well as volume #1's for characters like Shadowman, Archer & Armstrong, and the Harbinger group.
From there, the publisher promises a "near-constant influx of top-notch content from Valiant on ComicsFix's innovative digital reading platform", and new books will be added on a regular basis. While this isn't the group's first foray into the world of digital distribution (they're also available on comiXology),  it's still exciting for them as it means yet another outlet for their growing catalog of comics.
"Valiant is committed to finding new readers through as many outlets as possible, and, through our new partnership with ComicsFix, we are proud to add another innovative and affordable channel to our list of trusted digital partners," said Valiant CFO & Head of Strategic Development Gavin Cuneo. "ComicsFix is an exciting new option in the marketplace, and we look forward to fans new and old enjoying Valiant titles in a whole new way."
Valiant Comics are available right now on ComicsFix, check them out here.