Not a dream, not a hoax, not an imaginary story… Marvel's Secret Wars Activity Book is returning in 2015 for all the sticker collecting, connect-the-dotting fun you remember from the 80s version.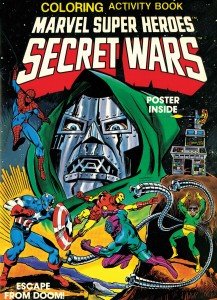 And basically, that's because it's a collection of the same books that saw release in the 1980s to coincide with the original Secret Wars crossover, which was itself basically a way to sell toys. If you don't remember (or are *ahem* too young), the original Secret Wars had all kinds of crossover items (and I don't mean comic books) including a pretty darn successful toy line that I freaking loved and, along with Kenner's Super Powers line, got me into comic books and superheroes.
While the 2015 event in Marvel's books won't be quite as light-hearted as the original, it indeed should be just as much fun for fans. As should this reprinting of the Secret Wars Activity Book.
"With a new Secret Wars coming in 2015, the heroes of the Marvel Universe are in for some harsh trials and tribulations," says Marvel SVP Sales & Marketing David Gabriel. "They won't be having much fun come 2015. But that doesn't mean you can't, dear reader! Loaded with games, goodies and more, this facsimile collection lets you experience the magic of Marvel Super Heroes Secret Wars as only the 1980s can provide!"
Now I did say this was a 'collection' and it most definitely packs more bang for your buck than the older editions did. Included here are the Secret Wars: The Crime Of Centuries and Escape From Doom coloring books, the Secret Wars: Secret Of Spider-Man's Shield and Tower Of Doom sticker books, and the Secret Wars: Stamp Fun and Spider-Man's Stamp Fun stamp books. All in all, that's a lot to keep you busy while the newest round of Secret Wars rage on.
You won't have quite as much of a wait for this one as you will for the new mini-series either as the Marvel Super Heroes Secret Wars Activity Book: Facsimile Edition (yes, that's the real name of it) goes on sale this March.