Capcom has a pair of Devil May Cry remakes coming next year for the Xbox One and PS4 with DMC: Definitive Edition and Devil May Cry 4.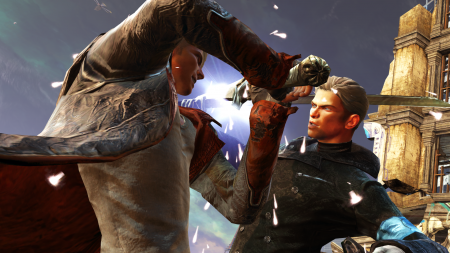 At the moment, there's a lot more info on the new edition of DMC that's on the way than Devil May Cry 4, but safe money is on them being pretty similar in terms of what Capcom's cooking up for this pair or re-releases. While DMC came out fairly recently though (1/15/13), Devil May Cry 4 is a straight-up older title that actually hit consoles way back in 2008.
To be fair though, it is one of the most universally loved entries in the series, which has had some clunkers over the years. As for DMC, aside from the fact that it scrapped the history of main character Dante and his world and started over, it's a very solid title that actually breathed new life into the series, which was stagnant since Devil May Cry 4.
As of right now though, we know a heck of a lot more about it than we do about the remake of the older game. DMC: Definitive Edition will include the original title, which will run at 1080p and in 60fps, plus all DLC for it (including Virgil's Downfall) and some all-new modes of play.
And those new modes include Vergil's Bloody Palace Mode, where you'll be able to play as Dante's twin bro, as well as new difficulty options like Gods Must Die difficulty, Must Style Mode, and Hardcore Mode, which should please old school fans of the series as it plays more like those older titles than DMC did. There'll also be some new costumes in there and a Turbo Mode that speeds up the action, trophies/achievements, and some social gaming bells and whistles that should take advantage of what the Xbox One and PS4 can do in that arena.
Look for DMC: Definitive Edition to hit the shelves on March 17th of 2015. As for the slightly more enigmatic Devil May Cry 4: Special Edition, that won't be hitting till the Summer of next year, ad I'm sure we'll have plenty more for you on it before then. Stay tuned.