The all-new Star Trek timeline brought about by JJ Abrams 2009 film is about to get a visit from an extra-dimensional foe well-known to Trek fans of all ages.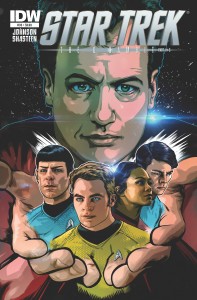 So this is pretty awesome, all things considered.
Made famous by actor John de Lancie in the Star Trek: The Next Generation TV show from the 80s/90s, Q is an omnipotent character hailing from a mysterious group of likewise god-like beings called the Q Continuum. What makes this particular little Q most… interesting, is his penchant for mischief and basically screwing with Captain Picard, the crew of the Enterprise D, and even Deep Space 9.
Whether this is the same version of Q that appeared in that show or not (and it's very possible that it is) hasn't really been defined by publisher IDW as of yet, but the 'crossover' is sounding pretty great so far.
"Part of the fun of the new STAR TREK movie franchise is seeing how beloved characters are different in the new timeline," says writer Mike Johnson, "But one iconic adversary remains unchanged: Q. His fascination with humanity and his penchant for mischief remain the same across the multiverse, and now he's come to take the Enterprise crew on an adventure that will bring new meaning to the phrase 'no-win scenario!'"
Kirk had dealt with god-like villains before of course on the classic television show in the 'Squire of Gothos' episode and it's Trelain character. Whether this version of the good captain and his crew have even encountered anything like Q before is a bit of a mystery, but it's a storyline that IDW and Star Trek editor Sarah Gaydos are itching to explore; "Like so many fans, Q captured my attention as soon as he appeared on the deck of the Enterprise," said Star Trek comic editor Sarah Gaydos, "We're excited to explore just how Q will react to our Captain Kirk…and how Kirk will handle one of the most powerful, witty characters ever to appear in the Star Trek universe. We're also very eager for everyone to see the stellar work Tony Shasteen is doing!"
Let the games begin in Star Trek #35 as part 1 of the 6 part The Q Gambit arc kicks off this July.