The free-to-play puzzle game based on the Doctor Who universe is getting a version 2.0 that plays out the narrative of the fifth season of the popular sci-fi show.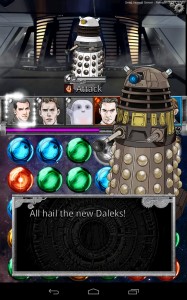 Doctor Who Legacy 2.0: Rise of the Master adds in the Season 5 content to the puzzler, which means another 20+ hours of all-new gameplay. And with season 5, so comes the current version of The Master, as played by actor John Simm.
In addition, the new update includes a Perk system that allows for greater team customization and 'expert mode' levels with "guaranteed special character rewards, new allies and enemies with new abilities, and much more". A whopping ten Doctors are now present and accounted for in Legacy with the addition of "the First Doctor (William Hartnell), the Second Doctor (Patrick Troughton), the Ninth Doctor (Christopher Eccleston) and the War Doctor (John Hurt)".
If you're looking for the Doctor's famous companions, you're also in for a bit of luck as there are more than a few of those guys and gals represented as well. All of which adds more and more strategy to the game, which is pretty highly ranked on the App Store and was called  "one of the more moral free-to-play games when it comes to how it treats its players." by Digital Spy.
Personally, I'm always a little wary of free-to-play titles, so it actually does mean a good deal to read that this one doesn't look to take advantage of its players. If you'd like to give the puzzling version of the Tardis a spin, Doctor Who Legacy is available right now on the Amazon Appstore, Google Play, and iTunes. A Facebook, in-browser, version of the game is also on the way for some time this month too.