No gods or kings, only release dates.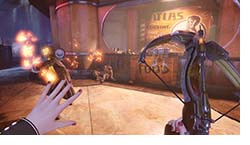 Episode 1 of the Rapture-centric expansion for 2k and Irrational Games BioShock Infinite left players on the edge of a pretty massive cliffhanger. When we last checked in with the trailer for the second half of this expansion campaign, we didn't yet have a release date for BioShock fans to mark off on their calendars- but we sure do now.
2k and Irrational have announced today that the hotly anticipated conclusion will be taking gamers back down in the bathysphere on March 25th for the Xbox 360, PS3 and PC versions of BioShock Infinite.
"In Burial at Sea – Episode Two, we are delivering a story that involves nearly every major character from the original BioShock and BioShock Infinite," said Ken Levine, creative director of Irrational Games. "It is a story that will give gamers a new perspective on the BioShock universe and conclude the story of BioShock Infinite and Burial at Sea ."
Burial at Sea episode 2 is pretty darned impressive. Not only are there a ton of characters in the episode, but most of the architecture and areas in it are built from scratch by the team at the developer, there are new weapons and modes as well as a stealth-heavy emphasis in the gameplay- and you'll get to play as Elizabeth for the first time ever in any BioShock installment.
So there's a ton going on with this one and with the promise that it'll not only wrap up the Burial at Sea tale, but also BioShock Infinite's storyline too; it's probably not one to be missed if you're a BioShock devotee.