Looking for something to playback your game/music/movie audio on your mobile device of choice? The Dash7 is a soundbar meant for the mobile world.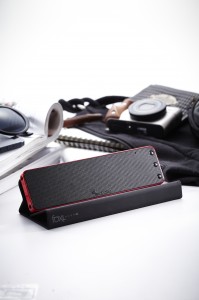 Connecting up to just about anything with a bluetooth pulse, the Dash7 from soundmatters is actually the world's lightest and thinnest bluetooth speaker. Seriously, soundmatters calls it "super-model thin" and it looks like they're not joking around with that description.
Set at just 3/4 of an inch though, the Dash7 packs a pretty heavy punch with its omnidirectional sound and "5th generation twoofer and BassBattery for true hi-fi sound". Basically, that translates into the fact that this little guy pushes some serious sound. It should, considering that the Dash7 is from the same inventor that cooked up the foxL tech that powers Jawbone's Jambox speaker. And while that mini-boombox might be small in form, the Dash7 is way smaller still.
Maker soundmatters is actually suggesting the device as the perfect mobile sound solution to toss into a purse or day-bag for the discerning audiophile. With the Valentine's Day holiday just around the corner, it'd make a great giftable too. Personally, I'd rather get one of these than a box of chocolates.
Here's your feature set:
Slimmest, lightest high-performance sound system and speakerphone with a beautiful design.
Unique ¾" height lets you nestle the DASH7 beautifully below your tablet.
Omnidirectional sound for watching movies or music videos.
Includes combo case and stand.
Angled stand provides even higher resolution on-axis listening.
Extended Bluetooth range.
Noise cancelling speakerphone to answer phone calls while listening to music or movies.
Sub output allows you to add the optional foxLO, the travel-size powered subwoofer small enough to fit in a quart-size baggie.
High power international USB Charger Kit (US/EU/AU/UK), powerful enough to charge your tablet.
Four colors:  vibrant red, arctic white, platinum silver and midnight black.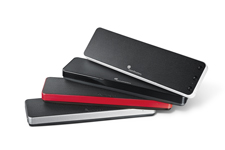 The Dash7 is available now through Amazon.com, Aetherapparel.com, Crutchfield.com, ListenUp.com, OneCall.com and soundmatters.com amongst others and will cost you around $249.99 USD.