A 10-pack of deathmatches and races that came out of the recent #CreatorWeekend have officially been certified by Rockstar Games. The winners get a chance at an exclusive Grand Theft Auto Online license plate for their in game ride and a stage at a cool $1million in GTA funds.
Who would've thought GTA players were a crafty bunch- and I mean 'crafty' as in making cool stuff, not y'know, in the sneaky sense. Although you might have thought it, the denizens of GTA Online most definitely can let their imaginations fly when it's called for.
Take these awesome deathmatches and races that the online community for the game has cranked out as a part of the #CreatorWeekend. The event was sponsored by Rockstar (who else?) and gave those who threw their hats in the ring a shot at GTA$1M and a cool custom plate. That's a lot of coolness right there and all they had to do was get creative with their favorite game.
Below you can see a five-pack of Rockstar Verified jobs as well as five additional selections from the weekend. All of 'em are cool and all of them are playable in-game right now. So read on, and then get into some trouble in GTA Online on the Xbox 360 and PS3 right now.
ROCKSTAR VERIFIED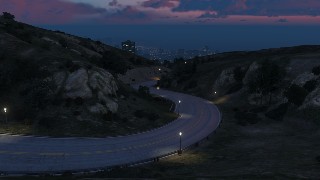 A complex but beautifully constructed point-to-point through some of Blaine County's iconic countryside. Follow the winding roads of Vinewood Hills as you race from Galileo Observatory through to Tongva Valley. Car selection from the Sports class is key here – steer clear of the Comet's twitchy back end or risk a fishtail festival. Tight turns and unforgiving cliff edges require deft use of the brake pedal, but don't be afraid to go for broke when the opportunity arises.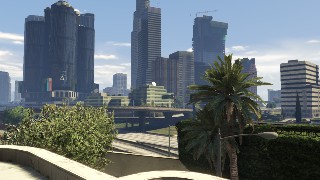 As the description so eloquently explains, this is "a tribute to the legendary track 'Stars in Your Eyes' in GTA IV". Pick the fastest car in the garage for the long straightaways on one of the busiest highways in Los Santos. Although Creator blueeyedbarbi advises that "you might want to turn traffic off if your reactions aren't quick enough", we think it's better to leave them on for a hair-raising drive into oncoming traffic that could leave the asphalt stained red.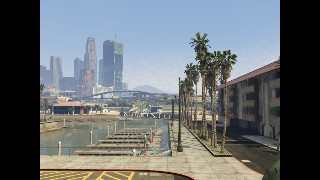 Another recreation of a famous real-world track, the Monaco Grand Prix GTA ed. contains all the features of Southern Europe's iconic Grand Prix race track: empty urban streets, a seafront setting, high end cars, a tricky hairpin, and two unforgiving chicanes that will slingshot you into the race lead, or through your own windshield.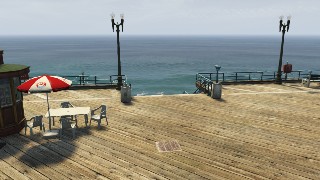 A track for the Online racing purist. No novelty factors, no sneaky tricks, no unwelcome distractions – this is raw and unadulterated driving where timing is everything and winning is decided on milliseconds and inches. Use slipstreams to push yourself into the lead and don't look back, particularly as you hurtle towards the water on the final straight down Del Perro Pier… and definitely don't blink.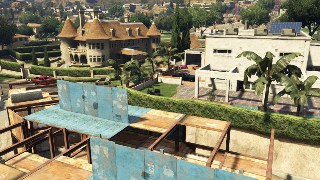 Amongst the mansions of Vinewood Hills, a new build is going up bringing downtown construction workers into uptown 'hoods. Tensions arise between these two tribes, and isolated firefights break out across the elevated terrain. High walls and high end cars allow for a variety of maneuvers in this tricky Deathmatch. We recommend taking the sniper rifle to the top of the mansion turrets or seek out the minigun and own the streets.
ROCKSTAR VERIFIED #CREATORWEEKEND SELECTIONS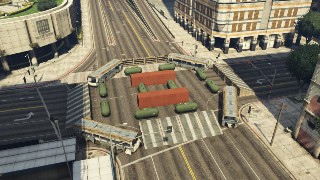 This tight Downtown track is spread over four blocks and built for aerial mayhem. 4 Way Madness forces players to jump cross each others paths through a central airborne death zone, flying through mid-air in four different directions. Creator gangsterpdp has placed gas tanks beneath the airspace to ensure that any collision results in instant death. Be sure to max out the starting grid, and then wait until the pack thins out for the carnage to begin. So deliciously cruel and marvelously cunning we couldn't help but select gangsterpdp for the GTA$1M as well as an exclusive CRE8R license plate.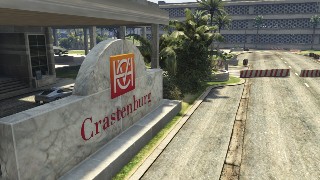 French-Canadian Creator WoriedNiko recommends turning the rain on to get the full experience from this tight, twisting race constructed across several parking lots near Los Santos International. Barrels and containers have been carefully positioned to create a series of on-a-dime turns and unforgiving chicanes best navigated via finessed tapping of the handbrake to throw out the back end of your ride into a controlled, smooth drift. For designing a race that brilliantly focuses on a specific racing technique, WoriedNiko gets the TOP CRE8R license plate and GTA$1M. Trés bien!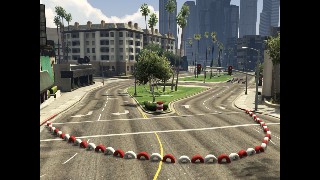 Previously featured on the Rockstar Newswire as a Job that caught our eye, we gave GTAVDriver a Rockstar Verified stamp of approval this week so that players on both platforms can enjoy this painstakingly detailed recreation of Southern California's famous Laguna Seca raceway. Bookmark it now for long straights and tight 270 degree turns that will challenge all your skills as a driver. The aptly named GTAVDriver also lands himself a NO1CRE8R License Plate and GTA$1M to spend on high end cars to throw around the track.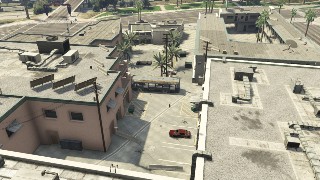 unseenchaos26, recipient of a THECRE8R license plate, warns that the law of the urban jungle reigns supreme in his well-crafted Deathmatch amongst the warehouses  high-walled street alley littered with heavy weapons, heavy armor and multiple entry points force you to keep moving, so campers be warned! The audacious play is to snag an ATV from the perimeter, and charge through the burnt out cars and buses into the central corridor to try and spring a surprise attack. When the coast is clear climb the ladder to the top of the warehouse overlooking the old motel and pick off your respawned enemies from above.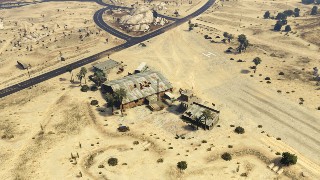 The only #CreatorWeekend selection set outside of Los Santos, eponymous creator terrynut6969 scoured the Blaine County landscape to find this cluster of buildings set around a small airport hangar. terrynut6969 has earned his I CRE8 license plate by cleverly splitting the space using wrecked buses that not only fit the derelict environment but create dynamic pathways and cover areas that set up brutal head-to-head showdowns. The added cover allows for surprise attacks using assault shotguns spread throughout the map, while isolated king-of-the-hill skirmishes will decide who owns the coveted positions atop the hangar and the air traffic control tower. Best enjoyed beneath the cold blue desert moonlight.