One of Marvel's best loved heroes celebrates five decades of action this Spring.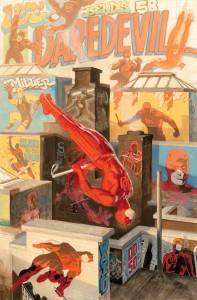 While not as popular as the publisher's heavy-hitters like Spider-Man and the X-Men, daredevil has amassed a huge amount of history within the Marvel Universe. The character has been around for almost as long as those other superheroes after all, so it's no surprise that Marvel is planning a apsecial issue commemorating the creation of the Man Without Fear.
This April, grab fifty fearless years by the horns in DAREDEVIL #1.50! Brought to you by critically acclaimed Daredevil scribe Mark Waid and red-hot artist Javier Rodriguez, this special anniversary issue celebrates Daredevil's legacy not by reflecting on the past, but by barreling headfirst into the future!

"At editor Steve Wacker's suggestion, we're celebrating the Man Without Fear's 50th anniversary not by looking back–but by looking forward," says series writer Mark Waid. "With a special story set in the future, on Matt Murdock's 50th birthday, peppered with clues for sharp-eyed readers as to what the rest of 2014 will hold for Daredevil!"

But that's not all! DAREDEVIL #1.50 comes jam-packed with a hailstorm of brand-new backup stories crafted just the special occasion, courtesy of Horn Head's most iconic creators!

What will tomorrow bring for Matt Murdock, and how will this year's events play into his unexpected future? Can a man truly stay fearless forever? The answers—and even more surprises–will hit sooner than you'd expect! Hang on tight, because the future for Matt Murdock is now in DAREDEVIL #1.50!
This has been a big year (including the last parts of 2013) for DD as the character has moved from the East to the West Coast and changed some very big conventions about himself along the way. Daredevil was also one of the first heroes to take part in the Infinite Comics, online only, imprint from Marvel; which is also a pretty big deal for him since the other members of the Infinite 'club' are Wolverine and Deadpool.
For issue #1.50, the idea of setting it in the future and having DD's secret identity of Matt Murdock looking back on his career as a masked crime fighter is a very interesting one. Seeing the year to come (as Marvel has it planned out) as if it was in the past is a cool way to let fans who know the character well have a peek at what's to come without sufficiently spilling the beans. Fiftieth birthdays don't come around  all that often after all, so something  special is certainly a welcome treat.
Set your radar sense, Mark Waid and Javier Rodriguez' Daredevil #1.50 arrives from Marvel Comics this April; just one month after the all-new monthly hits the racks.