The latest update to the official Super Smash Bros website is a return of an old favorite, Princess Zelda. Her new design is a sight for sore eyes.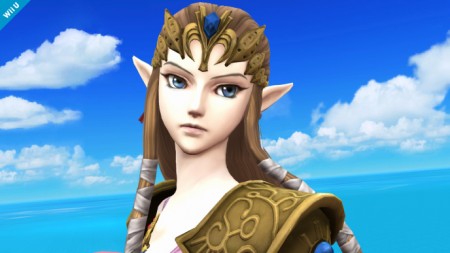 Over the course of seven months, Masahiro Sakurai has been gradually unveiling the new Super Smash Bros title to the public. Little by little he's giving each of us a taste of the new game. The developer has yet to disappoint, with reveals that continue to surprise and satisfy players. With characters such as Megaman, Rosalina, Wii Fit Trainer, the return of Sonic, and even some old favorites such as Zelda; it's clear that the next iteration of Super Smash Bros will be a faithful continuation of the series that gave us all years of hectic good times.
The latest in the line of revelations is the return of another veteran in the Super Smash Bros series. Zelda is back, and looking better than ever. As expected her facial features are touched up, with more prominent lips to make her face look realistic, lighter complexion, and detailed stitching on the front of her dress. An interesting thing to note here is the appearance of the phantom knight from Spirit Tracks and Phantom Hour Glass. It looks like it could be a new attack of Zelda's, but it could also very well be an assist trophy that happens to be standing by her. Sakurai has not really confirmed if it in fact is a move of hers.
Source: Nintendo