A 'choose your path' graphic novel featuring the universe from the Batman: Arkham games is now available for mobiles on the interactive Madefire platform.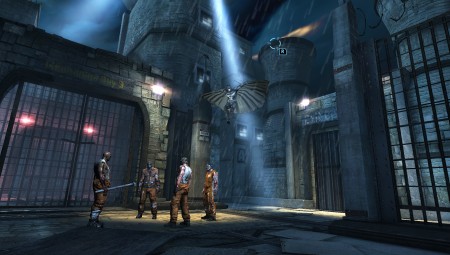 Batman: Arkham Origins (the digital graphic novel) is a part of the DC2 Multiverse line and actually plays more like a game than it reads like a comic. The prequel to the game that was released this past October will be delivered to the Madefire digital reading platform and will allow readers/players to choose Batmans next moves, complete with possible good and bad choices that could end your experience right quick.
"DC2 MultiVerse is the latest in a series of innovations that demonstrates how we work with digital partners like Madefire to organically enhance comics and the digital storytelling art form," stated Jim Lee, Co-Publisher, DC Entertainment.  "With the launch of the BATMAN: ARKHAM ORIGINS – A DC2 MULTIVERSE GRAPHIC NOVEL app, fans can choose the destiny of their characters – and follow both Batman or his rogues gallery of Super-Villains, all within an immersive reading experience tied to the actual game through prequel storylines and an exclusive skin."

"We have supercomputers in our pockets – we should expect more than just scanned in print," stated Ben Wolstenholme, Madefire CEO. "It is immense to have DC Entertainment bring Batman and Superman onto the Madefire platform."
The graphic novel is broken up into 8 parts that can be purchased all together or separately and will include a full soundtrack (with effects and everything) as well as 'multiple story branches'. There are also two special skins to be had for the Batman: Arkham Origins video game with two different ways to get 'em. The Bat-suit from Injustice: Gods Among Us and a costume patterned after a metallic version of the Dark Knight's look in the New 52 continuity can be had either by completing the main story after all 8 parts hit or by buying a season pass for the book, which'll get you the goods up front.
Also worth noting is that the Injustice: Gods Among Us 'digital first' comic that caught on so well with fans this year has been translated over to Madefire as well and will, like Arkham Origins, feature dynamic art and sound. Injustice, by the way, returns for another go-around next month and continues the story of the alternate universe where Superman has turned into a brutal dictator and Batman and Lex Luthor fight a losing battle to unseat him.
Madefire is available right now on the App Store and you can check out more about the company here on their official site.