A classic form the age of 16-bit consoles comes to PC and Mac.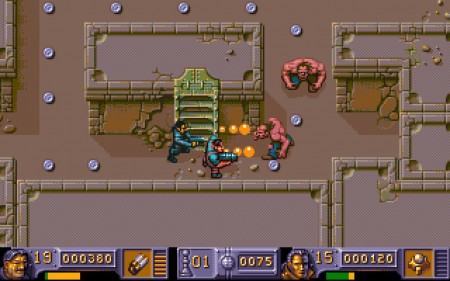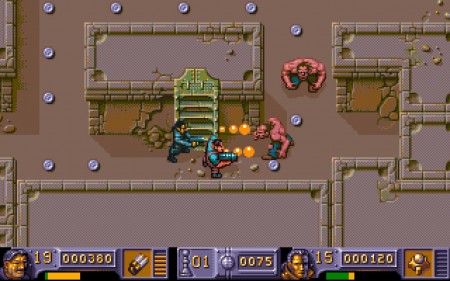 The Chaos Engine originally released on the Amiga back in the early '90s from The Bitmap Brothers, but you might know it by its other name – Soldiers of Fortune. Along with a few minor changes here and there, The Chaos Engine had its name altered for unknown reasons when it saw release on the SNES and Genesis/Mega Drive consoles.
Under either name though, one thing remained the same and that's that the game is tough as nails. It's a fact that's still very much true for the PC re-release that hit GOG.com not too long ago. From Mastertronic and Abstraction Games, The Chaos Engine presents a package that gamers from before the present 'hand-holding' age will definitely find something to like with.
The story is vintage sci-fi craziness and starts up in a steampunk-flavored 1800's. Baron Fortesque, while tinkering with early computers and machinery, creates a device that somehow becomes more than the sum of its parts- The Chaos Engine. The Engine becomes self-aware, can actually warp reality and even starts genetically altering living creatures. As a result, Britain slowly becomes something akin to a post-apocalyptic wasteland as humans are 'repurposed' into mindless killing machines for the Engine. The country is cordoned off as a quarantined zone and that's where the mercenaries come in.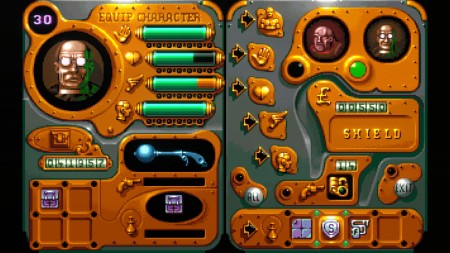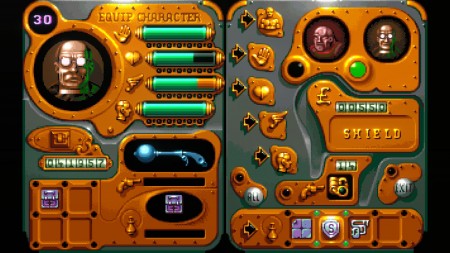 Apparently this, made the folks in charge a little tee'd off (can't imagine why) and they recruited a team of six mercenaries to go in and shut the operation down. Why send an army after all, when you can just send in six questionably-motivated guys for hire?
The Chaos Engine plays out from an isometric perspective as you guide your merc and a computer or second player-controlled buddy through the four 'worlds' that make up the game. Four levels might not sound like a lot, but they're all broken up into four parts themselves and all of them are far from easy to pass.
Graphically, not much has changed from the original version of the game. Yes, the looks have been updated, but not to such a degree that we're talking about something like the recent Ducktales or Castle of Illusion releases here. This isn't a remake after all, it's more like a straight rerelease of the original with a few little niceties tacked on. Even so though, that's not to say that The Chaos Engine looks bad.
I always had a soft spot for isometric-view games though. I love the way they tend to lay out their game worlds almost like a tabletop game and this one's no different. In either the original or the 'enhanced' mode (you can select either one), the graphics aren't going to bowl you over with realism or tons of special effects. There's lots of hand-drawn detail and charm in The Chaos Engine's four worlds though and I had a great time playing through them all over again.
And speaking of playing, the controls are generally solid here too- although I do recommend using a controller. I tried to make use of a keyboard and thought that The actual Chaos Engine may have taken control of my PC. Maybe it's just that I'm not used to playing a game like TCE with anything but a controller, but I was absolutely helpless navigating the landscape and attempting to plug away at the mutates that the vile machine was throwing at me. As a nice little upgrade, you have 16-point directional movement here too, which is a definite improvement from the original.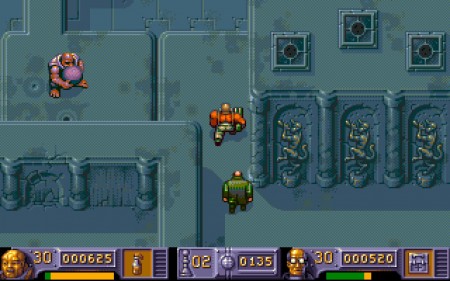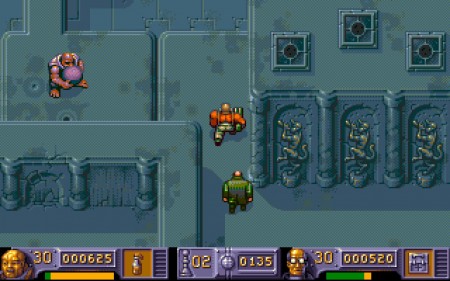 Final Thoughts
If you remember The Chaos Engine the first time around (or Soldiers of Fortune), then I probably don't have to sell you on the fact that this rerelease of The Chaos Engine is worth a play through. What you really have to ask yourself though, is do you want to revisit the title all over again, since it's more or less the same.
For my part, I really enjoyed going back to what was one of my favorite titles on the SNES (never played the Amiga version) and tackling the mutant menace for a second time. It was fun too, to see just how the game had aged in the almost two decades since I had played the heck out of it.
If you're new to The Chaos Engine, I don't want to make it sound like one of those games that's only worth a play for nostalgia's sake though. It really is a great action title that's definitely worth your time and is tons of fun with a second player. No, it isn't the sharpest looking game in the word anymore, but it's a great time and it's just one of those games that you'll probably want to come back to and play time and again.
Just try not to toss your controller at the monitor. And don't forget to look over your shoulder… those freaks like to sneak up on you.