With the game releasing tomorrow, the official website for Grand Theft Auto V is now updated with the full Travelogue- welcome to Blain County.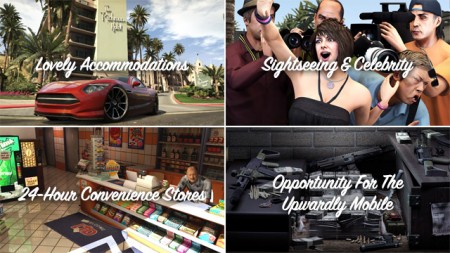 As far as new additions, there's a commercial from the Blaine County Board of Tourism called 'My Blaine County', the screens and art that you see below and a detailed look at all of the fun and (I'm sure…) completely wholesome things there are to do on world famous Vinewood Boulevard.
There's also a news spot on just how much more fans who are members of Rockstar's 'Social Club' will be getting out of the game. New guns, cars and haircuts will all be unlockable for those in the club along with a "suite of Career stats and player checklist features to monitor everything from heist performances to BAWSAQ investment portfolios and compare progress and accomplishments against Friends through special leaderboards." You can even make use of spoof apps like Snapmatic and Lifeinvader in the game to share pictures of your 'adventures' and save some green on in-game purchases.
One of the most fun aspects of Rockstar's triple-A franchise is always the lead-up to launch and all of the viral websites and fake TV shows and ads that the company puts out. GTA5 has been no exception in that category and, as much as it's great that the game is finally coming out, I'm a little bummed that the pre-launch party is over.
And it's really over by this time as what just might be the last great game of this current console generation is pulling onto retail shelves tomorrow when Grand Theft Auto V arrives for the Xbox 360 and PS3.