The angelic warrior arrives in the Marvel Universe with a special variant cover by legendary comic artist Milo Manara.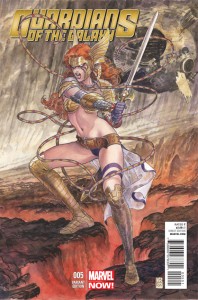 I remember Angela very well from her appearances in the Image Universe and Spawn comics in particular in the 1990′s. I can't say I really recall too many appearances of her's since then, but Marvel definitely has big plans for the heavenly bounty hunter in the pages of Guardians of the Galaxy and beyond.
Longtime artist Milo Manara is no stranger to drawing female characters and his depiction of Angela is one that'll welcome her to the Marvel Universe in style. Look for her to appear regularly alongside the likes of Star-Lord, Iron Man, Rocket Raccoon, Drax, Gamora & Groot in the pages of Guardians of the Galaxy as she helps the Guardians tackle the biggest baddies in the cosmos.
Guardians of the Galaxy #5 (complete with Angela variant cover) hits stands on July 13st.
Jason's been knee deep in videogames since he was but a lad. Cutting his teeth on the pixely glory that was the Atari 2600, he's been hack'n'slashing and shoot'em'uping ever since. Mainly an FPS and action guy, Jason enjoys the occasional well crafted title from every genre.