Drew Seldin is the co-owner of Project TriForce, maker of the most highly detailed video game based replicas on the market. A short while ago, I had the chance to sit down with him and chat about games, replicas, and what's coming up for the company.
First and foremost, I'm a fan of TriForce. After seeing the company and its wares several years back at the San Diego Comic Con, I was a believer to say the least. At the time, the company was relatively small. Their booth at the show was stocked with Gears of War items though, and the sheer detail level of the company's offerings was beyond impressive.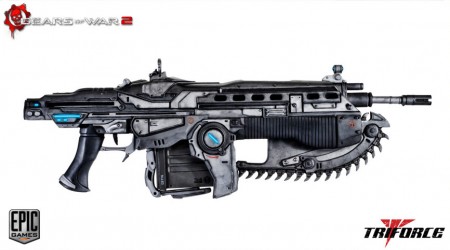 A Snub pistol, a Marcus Fenix bust, and a Lancer (that I would relieve that company of before the show was over) were all that TriForce and the booth attendant, co-owner Drew Seldin, had on display- but it was enough.
As I ran around the con, I made it a point to check out the TriForce display each and every day and I couldn't help but take note of the crowds that gathered on a regular basis to check out the merchandise and ogle the workmanship on what were far and away the most amazing replicas of Agent 47's Silver Ballers to be fashioned after the Hitman games pretty much ever.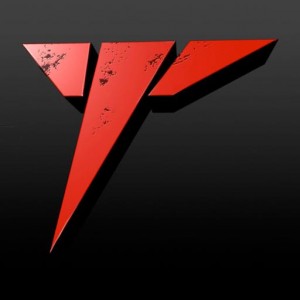 Now Project TriForce has become a force in an industry that they themselves pretty much single-handedly started- that being enthusiast grade, hyper detailed, video game replicas. So when Drew and I got together, my first question was "how did TriForce start and why do prop replicas from games?"
The answer was pretty simple. Drew originally came from the PR field and worked for Wizard Entertainment (one of the premier comic and toy magazine companies back in the '90s). He basically saw a gaping void in the replica and collectable landscape; that being that there was plenty out there for movie fans, but there was nothing of any real quality for the gamers of the world. And that's something that he believed was a huge oversight.
"Gaming is where the real passion is. The amount of time gamers will spend with a game is way above the time they'll spend watching a movie- there's a great connection there between the gamer and the character." -Drew Seldin, Project TriForce co-owner.
It's hard to argue that there is a passion there as gaming is growing in popularity and acceptance as an entertainment medium that's definitely not just for kids or the enthusiast set anymore. Blockbuster game debuts like Call of Duty and Gears of War routinely shatter records for entertainment launches and openings these days. Project TriForce is right there in the thick of it too. While the company started out with only the Gears of War license (which is pretty impressive all by itself), they now have a pretty wide-ranging selection of IP's that they produce product based upon.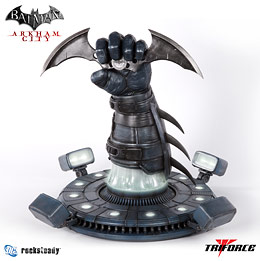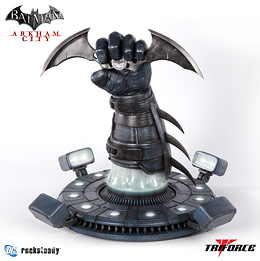 A quick glance at the company's website will reveal items up for sale and preorder based on the Batman Arkham series, Mass Effect, The Last of Us and more. When you talk about the biggest games of today, it's hard not to mention at least a few of the properties that Project TriForce has licensed. Out of what's in the inventory, Drew's personal favorites are the Lancer "because it was the first" and the upcoming Batarang, noting how "iconic" the piece is. Drew isn't complacent about what they have now though, as he sees the company always forging ahead with new items based on new properties.
Drew is an avid gamer too, so there are more than a few properties that I'm sure he'd like to create replicas for. Among the titles he was playing at the time of our chat were Call of Duty: Black Ops 2, Sonic Generations, Batman: Arkham City and Halo 4.
He's particularly addicted to Arkham City though (not an uncommon thing), and was sitting on 422 Riddler Trophies collected (which is a replica that TriForce actually makes) when we spoke. I'm sure he isn't still at that number as he seemed like he was dead set on finding all of them. As for all time favorite games, Drew is a devotee of classic shooters like Zaxxon (one of my favorites as well) and Space Invaders, which he calls "simple and perfect". Hard to argue that point.
When asked about who he'd most like to see the company working with (who they don't have a relationship with now), Drew told me that there's one IP out there that he'd really love to get TriForce's sculptors working on; not too surprisingly, that'd be Halo.
Microsoft's flagship Xbox franchise has just transitioned from the old to the new with 343 Industries taking over the development duties from series creators Bungie. "Halo weapons would be cool to do. There's just so much there to work with…" said Drew. He also added his thoughts on new Halo developers 343 Industries saying "343 took a franchise that was 10 years old and made it fresh." That is an impressive feat, and if I could just add a personal note- I'd love to see TriForce get working on a Halo armory as well. As a big fan of the sci-fi/action series, there's nothing I'd like more than to see some quality replica weaponry make it to market. If there's a series that calls for it as much as Gears of War, it's definitely Halo.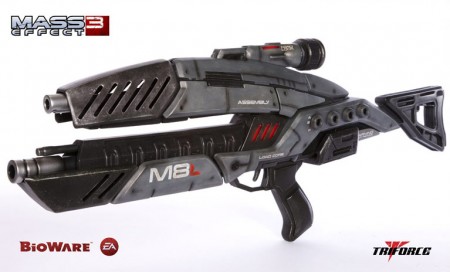 But that's hypothetical (as cool as it would be- paying attention Microsoft?), the reality is that the guys at Project TriForce already have a heaping helping of awesomeness on their collective plate even without the Master Chief. And the lines they are building now are only going to get better. Drew told me that the rest of 2013 and beyond is going to be loaded with new releases from Project TriForce. He wants the company to "just keep on growing" and from the looks of this list of what's on the way, it's easy to see that that's just what's going to happen.
Here's what you can expect to see in the near future from Project TriForce:
The Scythe and Death Statue from Darksiders will be shipping even though THQ has folded and the property will be sold off (it's rumored to go to Beyonetta makers Platinum Games)
A brand new replica weapon from Mass Effect is on the way with the M-6 Carnifex pistol
Nightwing's Escrima Fighting Sticks from Batman Arkham City are on target for shipping later this year (and are spectacular by the way)
A Geth Rifle is inbound from Mass Effect 3
There's more than that coming up too, but most of it is still on the drawing boards and can't be talked about just yet- though we can mention that there may just be a 45″ Freeze Gun coming up from Batman Arkham City that should make Batman and Mr.Freeze fans plenty happy.
As you can probably tell, if Drew and the gang at Project TriForce are anything it's non-complacent. The company co-owner told me that they had even been approached in the past about a television show "like American Chopper" and that it's an idea that's "still around", so we may yet see the crew doing there thing on television. He also noted that he'd like to see Triforce start to actually develop assets for games or maybe even get into making games themselves at some point. With the attention to detail that Project TriForce has given their line of replicas and statues, that'd be something I (and I imagine quite a few other gamers) would like to see.
If you'd like more information about Project TriForce and the incredible pieces that they turn out, click here to head to their homepage. Just, uh… maybe have your credit card handy when you get there- there's a lot of stuff to preorder.