Alice is back and ready fro action in the original Resident Evil movie series, as it gets a complete home video release.
A different kind of Evil
Okay so we all know very well that the Resident Evil movies aren't really adaptations of the games. Yes, there are some crossover characters and similar story-threads, and the overall themes are obviously the same, but that's about it. Past that stuff, it's more or less its own thing.
And if you dug what director Paul W.S. Anderson and actress Milla Jovovich put together with it, you might want to grab the upcoming box set. Collecting the six films in the series, the collection is presented in 4K Ultra HD, and even includes a bunch of special features. Oh, and did we mention steelbooks? Yep.
Fans can look for the box set to hit stores on November 21st, 2023. Scroll down to check out what's included, in its entirety.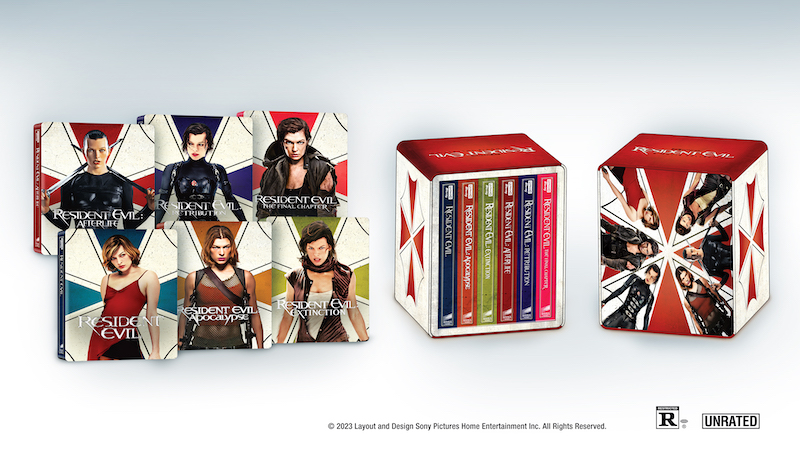 DISC DETAILS & BONUS MATERIALS
RESIDENT EVIL
4K ULTRA HD DISC
Feature presented in 4K resolution with Dolby Vision
Dolby Atmos + 5.1 audio
Special Feature:
BLU-RAY DISC
Feature presented in High Definition
5.1 audio
Special Features:

Cast and Filmmakers' Commentary
Visual Effects Commentary
Alternate Ending with Director Paul W.S. Anderson's Video Introduction
12 Featurettes
"My Plague" Music Video by Slipknot
RESIDENT EVIL: APOCALYPSE
4K ULTRA HD DISC
Feature presented in 4K resolution with Dolby Vision
Dolby Atmos + 5.1 audio
Special Features:

Theatrical and Extended Cuts of the Film
Theatrical Trailers
BLU-RAY DISC
Feature presented in High Definition
5.1 audio
Special Features:

Filmmaker Commentary
Cast Commentary
Writer / Producer Commentary
Deleted Scenes
"Game Over: Resident Evil Reanimated" Documentary
"Corporate Malfeasance" Featurette
"Game Babes" Featurette
"Symphony of Evil" Featurette
RESIDENT EVIL: EXTINCTION
4K ULTRA HD DISC
Feature presented in 4K resolution with Dolby Vision
Dolby Atmos + 5.1 audio
Special Features:

Resident Road Map: Reflections on the Future of the Series
Theatrical Trailers
BLU-RAY DISC
Feature presented in High Definition
5.1 audio
Special Features:

"Under the Umbrella" Picture-in-Picture
Filmmaker Commentary
Deleted Scenes
4 Featurettes
RESIDENT EVIL: AFTERLIFE
4K ULTRA HD DISC
Feature presented in 4K resolution with Dolby Vision
Dolby Atmos + 5.1 audio
Special Features:

Alice Activated
Theatrical Trailers
BLU-RAY DISC
Feature presented in High Definition
5.1 audio
Special Features:

"Undead Vision" Picture-in-Picture
Filmmaker Commentary
Deleted and Extended Scenes
Outtakes
7 Featurettes
RESIDENT EVIL: RETRIBUTION
4K ULTRA HD DISC
Feature presented in 4K resolution with Dolby Vision
Dolby Atmos + 5.1 audio
Special Features:

Evil Goes Global
Undead Retribution
Theatrical Trailers
BLU-RAY DISC
Feature presented in High Definition
5.1 audio
Special Features:

Director and Cast Commentary
Filmmaker Commentary
Deleted and Extended Scenes
Outtakes
Project Alice: The Interactive Database
8 Featurettes
RESIDENT EVIL: THE FINAL CHAPTER
4K ULTRA HD DISC
Feature presented in 4K resolution with Dolby Vision
Dolby Atmos + 7.1 audio
Special Features:

NEWLY ADDED: Directing The Final Chapter
NEWLY ADDED: Rola as Cobalt
NEWLY ADDED: From Saints to Sinners
NEWLY ADDED: From Script to Screen: The Making of Resident Evil: The Final Chapter
Maximum Carnage: Best Kills
Creature Chronology
Theatrical Trailers
BLU-RAY DISC
Feature presented in High Definition
7.1 audio.
Special Features:

Retaliation Mode with Paul W.S. Anderson and Milla Jovovich
3 Featurettes
Sony Pictures Home Entertainment press release