One of the greatest Elseworlds tales of all time, Gotham by Gaslight is the subject of a massive new Sideshow statue.
"I must go. There's a madman loose in my city."
Originally published as a graphic novel way (way) back in 1989, Gotham by Gaslight has become one to the biggest fan-favorite stories in the Elseworlds collection. Though that line fell out of favor for a time, Elseworlds is very much bubbling back to the surface of DC Comics at this point, which is well-fitting with current 'multiverse' obsessions.
If you don't know, Elseworlds was essentially the DC multiverse, before there was a multiverse. Not that it was anything cohesive, but it had the same themes of heroes and villains taken out of their usual surroundings and time periods. Take Gotham by Gaslight, for example, and its Victorian take on both Gotham City and its Bat.
The story was set during the 19th century, and featured both a fledgling Dark Knight and his nemesis, in the form of none other than serial killer Jack the Ripper. Fans of that classic tale will definitely want to see what Sideshow is cooking up too, with the company's newest addition to the Premium Format Figure line.
Batman is the star of the piece and looms large, posed atop a ruined church, at a commanding 20.5″. He also features a mixed-media build, and comes complete with a wired cape and "semi-flexible" grappling hook. So not only does he look great as is, but you can get a little bit of a custom look for him.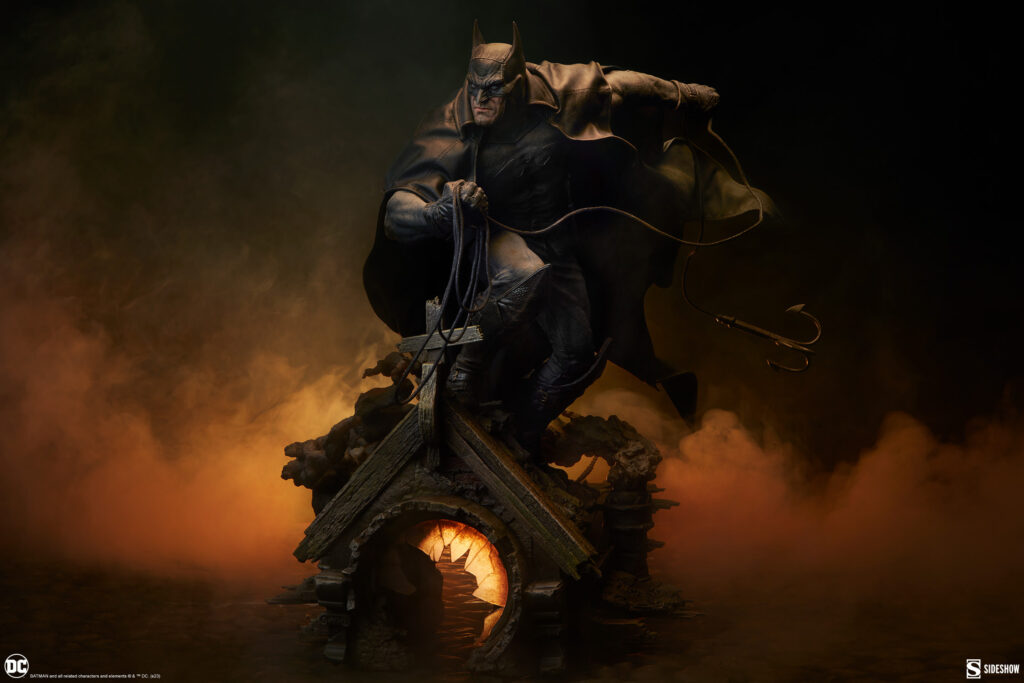 The Batman: Gotham by Gaslight Premium Format™ Figure depicts Gotham's new guardian angel crouched atop a Victorian-era Gotham City rooftop as steam billows from surrounding pipes. He keeps his grappling hook at the ready while using his detective skills to track down the serial killer who has framed him for murder.

This mixed-media statue has detailed sculptural elements as well as a fully tailored fabric cape. The cape has wire in the hem for dynamic posing, and the semi-flexible grappling hook rope adds additional dimension to the piece. Batman's costume features a stitched-together look throughout the sculpt to reflect the historical setting.

The Batman: Gotham by Gaslight Premium Format™ Figure is a stylish reimagining of the Dark Knight that will make a dramatic centerpiece in any Batman collection. Available to pre-order now from Sideshow.

Sideshow Collectibles press release
Gotham by Gaslight is set to ship some time in the spring/summer of 2024, and is priced at $700 USD. Pre-orders are open right now, and you can grab one by hitting the link above.